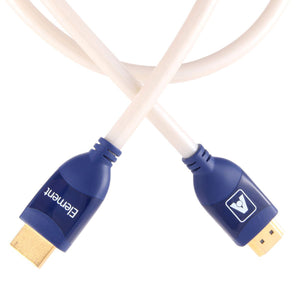 Atlas Element 18G Digital AV High Speed HDMI with Ethernet ( 4 Meter)
Free Shipping (India)
Brand New Unit(s)
Price Includes GST
Official Manufacturers Warranty
EMI Payment Option Available
3/6 Months - No Cost EMI on All Orders above 30,000
To avail No Cost EMI, please select applicable card offer on the payment screen.
Tax Included.
Atlas Element 18G Digital AV High Speed HDMI with Ethernet
A high speed digital cable building upon the success of Atlas' 2nd generation Atlas Element 4k HDMI. The Element HDMI 18G has been engineered to deliver the full bandwidth requirements of the HDMI 2.0a specification – 18Gbps over extended lengths up to 4m with extremely low jitter rates.
The Element HDMI 18G with Ethernet was specifically designed by Atlas' digital engineers to deliver optimal bandwidth and maximum fidelity in advanced home cinema systems. Atlas consider sound quality is just as important as video performance in creating an immersive user experience.
The design utilises high-purity Oxygen Free Copper (OFC) conductors insulated by a super rigid and geometrically stable Polyethylene dielectric to deliver fast, accurate signals between source and destination components. An advanced conductor topology and precision twisted construction enables us to achieve consistent data transmission and maintain constant impedance. Combined with sophisticated triple-layer shielding, the Element 18G minimises the timing issues which potentially degrade performance by increasing the error correction required by any digital receiver. If the display device is continually checking and correcting errors, this impacts the power supplies, the clocking circuits and the digital to analogue converters. This manifests directly in increased power dissipation, higher heat output and ultimately poorer sound quality.
Finally a precision die-cast metal connectors offer improved retention force ensures a precise, secure connection (loose-fitting connectors can be a cause of signal loss).
Features :
Atlas HDMI Plugs
OFC Conductors
PEF/HDPE Dielectric
Multi-Core Construction
Oxygen Free Copper (OFC)
OFC is produced through an extrusion process which takes place in an oxygen-free-inert-gas atmosphere. This leads to a reduced oxygen content (10 ppm) when compared to Tough Pitch Copper (TPC) and an improvement in conductivity which typically measures in at between 0.5% and 2% greater than TPC. The OFC process therefore produces a much higher quality audio cable than the TPC process. High purity conductors sound clearer than their unprocessed (TPC) counterparts because there are fewer crystal boundaries present to cause signal degradation.
PEF/HDPE Dielectric
PVC (Poly Vinyl Chloride) is cheap to produce and, as such, is the most commonly used insulation in AV cables. However, PVC is the worst quality insulation a Hi-Fi or AV signal can encounter as its high loss causes a significant reduction in signal velocity. PVC is better suited to power cables and should be avoided in Hi-Fi and AV signal cables.

Other dielectrics in common use are Polyethylene, Polypropylene and Polytetrafluoride Epoxy (better known as PTFE (Teflon™) or Teflon,) and the new and unique Atlas (PTFE).

HDPE (High Density Polyethylene) has a more close-packed structure compared to its more flexible cousin LDPE (Low Density PE) and excels in its durability.

The table below shows the properties of a selection of dielectrics. Though not used as a dielectric in Atlas' cables, PVC is included for comparison purposes.
Multi-Core Construction
A pair of identically matched conductors (one for signal path, the other acts as the return conductor) enclosed within a non-conducting screen.
Specification :
Construction : 19 conductor multi-core
Material : OFC
Dielectric : Data PEF, Power HDPE
Screen : Braid & Mylar™, 100%
Outside Diameter: 7mm