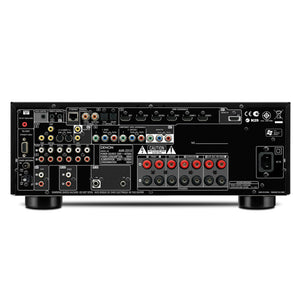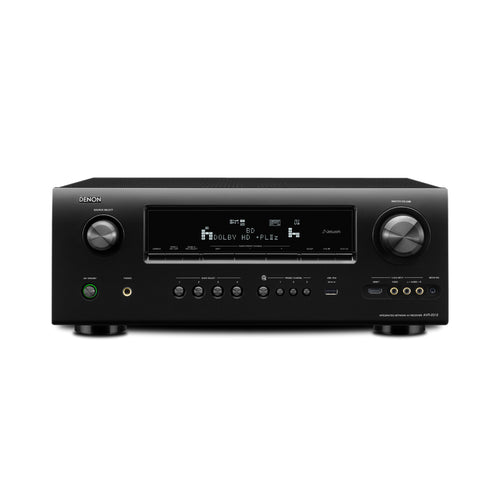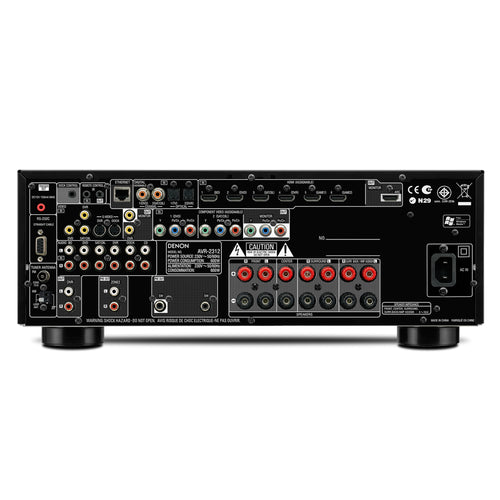 Denon AVR-2312 - 7.1 Channel Network AV Receiver with Airplay (Demo Unit / Without Box Unit)
Free Shipping (India)
Brand New Unit(s)
Price Includes GST
Official Manufacturers Warranty
EMI Payment Option Available
3/6 Months - No Cost EMI on All Orders above 30,000
To avail No Cost EMI, please select applicable card offer on the payment screen.
Tax Included.
Denon AVR-2312 - 7.1 Channel Network AV Receiver with Airplay
AVR-2312
7.1-channel HD-Audio Receiver with AirPlay, Network Features, high performance video processing, and 3D support
FEATURES - AVR-2312
The new AVR-2312 offers consumers unprecedented networking capabilities, flexibility, performance and reliability with a strong emphasises on "right out of the box" ease of use. The receiver comes with a host of next-generation lifestyle features geared towards today's "networked home", as well as a sleek new Denon cosmetic with a newly designed front panel and thinner profile. Most remarkably, he has AirPlay already built-in for the most convenient music streaming from iTunes libraries and Apple's iPhone/iPad/iPod touch.
New Features
Network capability
- Internet Radio and network audio/photo streaming via Ethernet
- Last.fm and Flickr online support
- 'Party Mode Plus'
- FLAC HD, High-resolution audio format (2 channel)
- Compatible with Windows 7
- web control
Internet Radio and Preset buttons, for quick, easy enjoyment of Internet radio
Four quick select buttons, quick access to frequently-used video or music sources
Denon Remote App for iPhone, iPod Touch and iPad (available in AppStore)
Airplay wireless music streaming built in
Setup Wizard, providing easy-to-follow setup instructions
Easy operation, Advanced Graphical User Interface
GUI overlay on HD source
7-HDMI inputs
State-of-the-art Denon Solutions
Fully discrete, identical quality and power for all 7 channels (135 W x 7 ch)
Stable power supply for high-quality sound and picture playback
Supports HDMI with 3D, Audio Return Channel, Deep Color, "x.v.Color", Auto Lipsync and HDMI control function
High definition audio support, Dolby TrueHD and DTS-HD Master Audio
Supports Dolby Pro Logic IIz processing
Dual subwoofers preout
Picture Adjust
I/P Converter and Scaler up to 1080p
Connectivity & Future-ready Expandability
Direct play for iPod and iPhone via USB
Power Amp Assign function, for versatility in using the AVR-2312 for different purpose (Surround Back, Front Height, Zone 2, Bi-Amp, Front Speaker B)
Ease-of-Use
Audyssey Dynamic Volume, for real-time volume adjustment
Audyssey MultEQ XT and Auto Setup
Tower type microphone for more accurate measuring
Up to eight measurement points
High level resolution filters for satellite speakers and also subwoofer
Others
AMX, Crestron third party control support
Audyssey Pro ready
Lower power consumption at stand-by 0.1 W (Standby)
TECHNOLOGY- AVR-2312
7 channel equal power output
7 channel equal power is a feature used in Denon Amplifiers with the means of connecting 7 speakers independantly which do not require separate power amps connected via the pre-outs. This feature compliments Dolby Digital EX and DTS ES sound modes. Allowing you to connect the second 'surround back' speaker, which compliments the surround back speaker initially there for 6.1, straight off the main amplifier without adding a power amplifier to support 7.1 surround formats. The amplifier has built in separate internal amplifiers to power each channel independently, this system ensures that the 6 major channels Front Left, Front Right, Center, Surround Left, Surround right, Surround Back left and Surround Back right. Thus allowing you to enjoy the same high power output, giving a balanced and truly high-impact surround-sound environment.
Audyssey MultEQ-XT with Dynamic EQ
Auto Setup and Auto Room EQ with Audyssey MultEQ XT
The Audyssey MultEQ XT allows room correction and calibration technology. During the Auto Set-Up mode, MultEQ XT automatically determines how many loudspeakers are connected, whether they are connected in phase and whether they are satellites or subwoofers. When it has processed this it then analyzes and calibrates speaker level, size, and distance. In addition, MultEQ XT detects the proper crossover point and determines correct frequency response for up to eight listener positions simultaneously. This is the first system to optimize and compensate the system for more than one listening location at the same time giving nearly every listener in the room a "sweet spot" no matter where they're sitting. Denon's implementation of MultEQ XT uses multiple Texas Instruments' Aureus DSP processors with high-end digital-to-analog converters. Both the Room EQ and Auto Set-Up features can be disabled if required.
For more information go to; http://www.audyssey.com/ and also;
http://www.audioholics.com/techtips/specsformats/AudysseyMultEQ.php
Cinema Equalizer
The sound from movie sources recorded in Dolby Digital, DTS, or other formats emphasizes high-frequency range due to a theater's front speakers being placed behind the movie screen. If this sound is reproduced in the home theater without correction, the high-frequency range is too strong. Denon amplifiers feature a Cinema Equalizer to correct these high-frequency components so that the sound is clearer and easier to listen to. (For Dolby Digital, Dolby Pro Logic II, and DTS surround modes.)
Dolby Digital EX
In a movie theater, film soundtracks that have been encoded with Dolby Digital surround EX technology are able to reproduce an extra channel which has been added during the mixing of the program. This channel, called Surround Back, places sounds behind the listener in addition to the currently available front left, front center, front right, surround right, surround left and subwoofer channels. The additional channel provides the opportunity for more detailed imaging behind the listener and brings more depth, spacious ambience and sound localization then ever before. Dolby Digital EX is not available in the system without surround back speaker(s).
Dolby Digital-Decoder
Dolby Digital is the multi-channel digital signal format developed by Dolby Laboratories. Dolby Digital consists of up to "5.1" channels - front left, front right, center, surround left, surround right and an additional channel exclusively reserved for additional deep bass sound effects (the Low Frequency Effects - LFE - channel, also called the ".1" channel, containing bass frequencies of up to 120Hz).
Dolby Digital-Decoder
Unlike the analog Dolby Pro Logic format, Dolby Digital's main channels can all contain full range sound information, from the lowest bass, up to the highest frequencies - 22kHz. The signals within each channel are distinct from the others, allowing pinpoint sound imaging and Dolby Digital offers tremendous dynamic range from the most powerful sound effects to the quietest, softest sounds, free from noise and distortion.
Dolby Pro Logic II
The Dolby Pro Logic ll decoder reproduces dynamic 5.1-channel surround sound from 2-channel sources such as TV, videos and CDs. Dolby Pro Logic ll uses matrix-decoding technology that has been dramatically improved over Pro Logic. With Pro Logic ll, for instance, the Surround channels are in stereo instead of just mono with Pro Logic, and playback covers the full frequency range instead of just up to 7kHz with Pro Logic. These improvements let you enjoy a wide variety of 2-channel sources with the exciting effects of 5.1-channel surround sound. In Dolby Pro Logic ll, there is a Movie mode (*1) that creates a sound field for movies, a Music mode that does the same for music, and a Pro Logic emulation feature that reproduces sound effects in the way that conventional Pro Logic does.
Dolby Pro Logic II Music: The music mode creates a rich and enveloping surround ambience delivered to the subwoofer, optimizing the visceral of planned rear effects. This mode can only be used with 2-channel audio sources.
Dolby Pro Logic II Cinema: The Cinema mode is optimized for movies or programs with Dolby Surround soundtracks. This mode is also appropriate for use with video game.
Dobly Pro Logic II Game: The game mode was implemented to ensure that the bass impact from pure surround effects are fully delivered to the subwoofer, optimizing the visceral of panned rear effects. This mode can only be used with 2-channel audio sources.
Dolby Pro Logic IIx
Dolby Pro Logic IIx is an extension of Dolby Pro Logic II technology. This highly sophisticated algorithm processes native stereo and 5.1 channel content to produce 6.1 or 7.1 output channels. And Dolby Pro Logic IIx is not available in the system without surround back speaker(s).
Dolby Pro Logic IIx Music: The music mode creates a rich and enveloping surround ambience delivered to the subwoofer, optimizing the visceral of planned rear effects. This mode can only be used with 2-channel audio sources.
Dolby Pro Logic IIx Cinema: The Cinema mode is optimized for movies or programs with Dolby Surround soundtracks. This mode is also appropriate for use with video game.
Dolby TrueHD
Dolby TrueHD is a completely loss-free Audio-Codec for high resolution audio for up to 8 channels Supporting 24-Bit and sampling rates up to 192 kHz. It requires specific Dolby HD decoders. Since the resulting signal is bit-to-bit to the master you can achieve the ultimate in audio quality.
DTS 96/24
DTS 96/24 allows high-quality 5.1 channel sound playback with full-quality, full-motion video. DTS 96/24 allows both digital audio output and video output from your existing DVD player and is backward compatible with existing DTS decoders for normal DTS 5.1 playback. DTS 96/24 actually exceeds the resolution of most film soundtrack masters to date, and will initially apply mainly to high quality DTS music DVD discs.
DTS-Decoder
A data compression method developed by Digital Threater Systems that takes six channels of audio (5.1) and folds them into a single digital bitstream. This differs from Dolby Digital in that the data rate is a somewhat higher 1.4 Mbs, which represents a compression ratio of about 4 to 1.In order to take advantage of this DVD feature, a DTS decoder is required. DTS decoders are installed internally in Denon players and A/V recievers.
DTS-ES Discrete/Matrix 6.1
DTS-ES Extended Surround is a multi-channel digital signal format develpoed by Digital Theater Systems Inc. While offering high compatibility with the conventional DTS Digital Surround format, DTS-ES greatly improves the 360 degree surround impression and space expression thanks to further expanded surround signals. This format has been used professionally in movie theaters since 1999.
In addition to the 5.1 surround channels, DTS-ES also offers the surround back channel for surround playback with a total of 6.1 channels. DTS-ES includes two signal formats with different surround signal recording methods, as DTS-ES Discrete 6.1 and DTS-ES Matrix 6.1.
DTS-ES Discrete 6.1
DTS-ES Discrete 6.1 is the newest recording format. With it, all 6.1 channels (including the SB channel) are recorded independently using a digital discrete system. The main feature of this format is that because the SL, SR and SB channels are fully independent, the sound can be designed with total freedom and it is possible to achieve a sense that the acoustic images are moving about freely among the background sounds surrounding the listener from 360 degrees. Though maximum performance is achieved when sound tracks recorded with this system are played using a DTS-ES decoder, when played with a conventional DTS decoder the SB channel signals are automatically down-mixed to the SL and SR channels, so none of the signal components are lost.
DTS-ES Matrix 6.1
With this format, the additional SB channel signals undergo matrix encoding and are input to the SL and SR channels beforehand. Upon playback they are decoded to the SL, SR and SB channels. The performance of the encoder used at the time of recording can be fully matched using a high precision digital matrix decoder developed by DTS, thereby achieving surround sound more faithful to the producer's sound design aims than with conventional 5.1- or 6.1-channel systems. In addition, the bit stream format is 100% compatible with conventional DTS signals, so the effect of the Matrix 6.1 format can be achieved even with 5.1-channel signal sources. Of course it is also possible to play DTS-ES Matrix 6.1 encoded sources with a DTS 5.1-channel decoder.
HDMI-output (HDCP)
HDMI (high definition multimedia interface), a new connector that bases itself on the DVI-HDCP model. HDMI supports uncompressed high definition video plus multi-channel audio in a single cable using a smaller connector that eliminates the need for multiple cables in home entertainment systems, simplifying installation and eliminating cross technology confusion. It transmits uncompressed digital video so that the picture maintains a high quality of color depth, brightness and contrast. It also supports Consumer Electronics Control (CEC) based on the AV.link protocol so it can be controlled with a universal remote that is used with multiple HDMI sources such as Denon DVD players. HDMI supports bi-directional coommunciation between devices, allowing DVD players to communicate with Plasma's, LCD screens and Projectors, as long as they are HDCP compatible. The HDMI connection supports every uncompressed standard, enhanced and high definition video format ranging from 480I to 480P, 720P, 1080I and 1080P as well as existing PAL formats. It also has the bandwidth to support compressed audio formats such as Dolby Digital, Dolby Digital EX, DTS, DTS EX and uncompressed formats (PCM audio) up to eight channels, up to 192kHz, up to 24-bits.
High Definition Multimedia Interface(HDMI) and High Definition Content Protection (HDCP) is a copyright protection system installed on most Plasmas, LCD's and projectors consisting of a HDMI or DVI input. All Denon DVD players require HDCP compliant displays to be fully compatible. It prohibits the copying of copyrighted material, like onto a VCR or DVD-recorder.
Radio Data System
Radio Data System for VHF/FM broadcasting.
The developers aimed at making radio receivers very user-friendly. Listeners should be able to see the programme service name (PS) on an eight character alpha-numerical display and the transmitter frequency information, as displayed on non-RDS radios, is then only used in the background by an RDS radio. The tuner is able to choose the transmitter frequency, among a number of alternatives, that gives the best quality reception.
Travel information with RDS is currently possible using the Travel Programme (TP) and Travel Announcement (TA) flags.
Once a radio is tuned to a programme service broadcast within a network, using the RDS feature Enhanced Other Networks (EON), additional data about other programmes from the same broadcaster will be received. This enables the listener, according to their choice, to have the radio operating in an automatic switch-mode for travel information or a preferred Programme Type (PTY, e.g. News).
Another feature of RDS is accurate Clock-Time, displaying the time/date when selected.
DTS Neo:6 Cinema & DTS-Neo:6 Music
This mode decodes 2-channel signals into 6-channel signals using high accuracy digital matrix technology. The DTS NEO:6 decoder has near discrete properties in the frequency characteristics of the channels as well as in channel separation.
According to the signals being played back, DTS NEO:6 Cinema mode optimized for playback or the DTS NEO:6 Music mode optimized for music playback.
Made for iPod
"Made for iPod" means that an electronic device has been designed to connect specifically to iPod, and has been certified by the developer to meet Apple performance standards.
Work with iPhone
La certification « Works with iPhone » permet de lire des médias en streaming via un iPod/iPhone 2G/ 3G / 4G. Attention l'iPad n'est pas intégrer dans la certification du à sa consomation en charge.
Network
This logo indicates that the product integrates a network jack in order to connect the home network. Several functionalities the models see technical specifications: Streaming audio over the network if "DLNA" Update via Internet Controllable via IP or iPhone / smartphone.
DLNA Certified
AirPlay
AirPlay allows you to stream iTunes music from your PC or Mac on their home network, to the Airplay capable Denon product. From the Denon unit, artist information, album art as well as elapsed time can be accessed. You are able to control some major navigation features of your iTunes from the Denon unit.
In addition, Apple offers the free-of-charge application Remote for iPhone, iPod Touch and iPad to control the content of the complete iTunes library and the volume of the AirPlay capable product.
Further information can be found here...
Denon Remote App
In order to control a network-based Denon device in your house, Denon developed an own App called "Denon Remote App" for iPhone, iPod Touch and iPad. This allows for easy and yet advanced selection of input sources, network content, zone control and more.
It is available on the AppStore free of charge.
Click here for further information.
Setup Wizard, for easy installation
After connecting the AVR to the TV screen using HDMI cable and switching on the receiver, the Setup Wizard appears. First select the language (currently: English, French, German). Then simple follow the instructions displayed on the TV screen to set up the speakers, calibrate the speaker system, set up input sources, remote control and network.
Audyssey MultEQ Pro Calibration
Audyssey Registered Installers can provide advanced room equalization with MultEQ XT installed with the Audyssey Installer Kit and MultEQ Pro Software. The Audyssey Installer Kit comes with professional, pre-calibrated tools for the most accurate room measurements. MultEQ Pro Software allows more room measurements and the most precise room correction. It is possible to calibrate a home theater to standardized target sound curves and set speakers to appropriate level trim, distance and subwoofer crossover settings.
MultEQ Pro offers up to 32 calibration measurements throughout the room using a professionally calibrated microphone. With your installer you can custom edit the target curve including midrange compensation. Moreover improved crossover optimization provides better blending between subwoofer and satellites.
Not only will you here the astonishing results of the professional room calibration but you will also get a certificate that illustrates the results before and after the correction.
Compressed Audio Restorer
The Compressed Audio Restorer ensures that even the now widely used, data-compressed audio files can properly do with music and lots of fun.
enable a precise signal analysis of medium frequency locations and sophisticated computational procedures are Denon components equipped in the situation, residual harmonic content of conventional MP3, WMA or AAC signals to evaluate, missing bass back and height proportions, and so again to produce a full music signal. The spatial image, the dynamics improved. Even the often-ailing bass is back to its former strength. This is not technically sophisticated reconstruction of the audio signal Restorers can compare with the conventional arrangements are sound
Noise Shaped Video (NSV)
The NSV feature works in the digital domain to reduce noise in the video signal frequency band in order to enhance video signal linearity.
DTS-HD
DTS-HD (High Definition) is a progression of DTS for high performance audio supporting upto 8 channels with a resolution of 24-Bit and sampling of upto 192 kHz. The differences between the formats is as follows:
DTS-HD High Resolution Audio
This format works like DTS however it uses a more effective compression algorithm, offering greater compression, the result is an audio signal almost bit for bit to the master while requiring a smaller amount of data.
DTS-HD Master Audio
This format is completely lossless with only minimal compression. The resulting audio signal is bit-for-bit to the master giving you the optimum in audio quality.
A/V-Receivers with this logo can decode both formats, BD- or HD-DVD-Players with this logo can either decode or output the DTS-HD signal via HDMI.
Specifications
| | |
| --- | --- |
| Power supply | 230 V, 50 Hz |
| Power consumption | 600 W (Standby 0.1 W,CEC standby 2.2 W) |
| Dimensions (W x H x D | 434 x 167 x 382 mm |
| Weight | 11.0 kg |