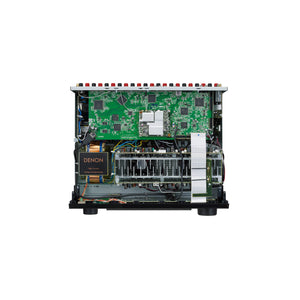 Denon AVR-X3600H - 9.2 Channel 4K UHD Dolby Atmos AV Receiver (Demo Unit / Without Box Unit)
Free Shipping (India)
Brand New Unit(s)
Price Includes GST
Official Manufacturers Warranty
EMI Payment Option Available
3/6 Months - No Cost EMI on All Orders above 30,000
To avail No Cost EMI, please select applicable card offer on the payment screen.
Tax Included.
Denon AVR-X3600H - 9.2 Channel 4K UHD Dolby Atmos AV Receiver
AVR-X3600H
9.2 channel 4K Ultra HD AV receiver with 180W per channel and advanced HDMI (8in / 3out with eARC) section. Supports 3D audio formats Dolby Atmos®, Dolby Atmos Height Virtualization Technology, DTS:X™, DTS Virtual:X® and new IMAX Enhanced. Works with Amazon Alexa, Google Assistant, and Apple Siri for seamless voice control.
FEATURES - AVR-X3¬600H
9.2ch 4K AV Receiver with 3D Audio and HEOS Built-in®
Overview
Immerse yourself in high-power home theater with the Denon AVR-X3600H. With 180W per channel, the performance-tuned Denon amplifier delivers an amazing 3D audio experience with support for Dolby Atmos®, DTS:X™, DTS Virtual:X®, Dolby Atmos Height Virtualization Technology and new IMAX Enhanced. Supports the latest 4K video technologies — including Dolby Vision™ Compatable, HDR10, and HLG as well as 4K video upscaling— to ensure your TV or projector powers the ultimate in picture brightness, contrast and clarity. ALLM is supported for the best gaming experience.
The 8 HDMI inputs and 3 outputs with eARC and full HDCP 2.3 support on all ports are compatible with the latest HD and Ultra HD TVs, Blu-ray players and game consoles. The front-panel USB offers convenient audio playback of MP3 and Hi-Res audio formats (WAV, FLAC, ALAC and DSD 2.8/5.6MHz files). Stream popular music services like Spotify® Premium and free, Amazon Music, Tidal, Deezer and more wirelessly via Bluetooth, Apple AirPlay 2 and Wi-Fi with HEOS Built-in. Works with Amazon Alexa, Google Assistant and Apple Siri for effortless voice control. The powerful DSP is capable of 11.2 channel processing, allowing you to extend the system with an additional power amplifier.
By visually guiding you through each step in the setup process, the award-winning Denon Setup Assistant ensures you get set up right the first time. Every home theater is different — that's why Denon uses the premium MultEQ XT32 room calibration technology from Audyssey that automatically measures your room acoustic and optimizes your AV receiver to provide a truly immersive 3D audio experience custom-tailored to your unique listening environment.
POWERFUL 9-CHANNEL AMPLIFIER WITH ADVANCED HOME CINEMA SPECS
Featuring discrete high-current amplifiers on all channels, the AVR-X3600H delivers high-power performance at 180W per channel. The AVR-X3600H supports three-dimensional sound formats Dolby Atmos, Dolby Atmos Height Virtualization Technology, DTS:X, DTS Virtual:X and the all new IMAX Enhanced. The advanced HDMI section features HDCP 2.3 support and advanced video processing with 4K scaling for HDMI sources, plus a 12V trigger output to connect an external device.
BLOCKBUSTING 3D-SOUND
Immerse yourself in multi-dimensional audio with Dolby Atmos, DTS:X, Dolby Atmos Height Virtualization, DTS Virtual:X and IMAX Enhanced.
IMAX ENHANCED TECHNOLOGY
Get the most premium at-home entertainment experience with IMAX Enhanced — the latest technology from DTS that sets a new standard for home theater imaging, sound, scale and clarity. Watch clearer pictures and brighter images. Feel immersive, heart-pounding audio and experience premium content digitally remastered by IMAX.
DRIVE IMMERSIVE SURROUND SOUND
Immerse yourself in multi-dimensional audio with Dolby Atmos. Using the 9 powered channels, set up a 5.2.4 or 7.2.2 Dolby Atmos surround sound system.
Take advantage of the two AVR-X3600H pre-outs to set up a 7.2.4 Dolby Atmos surround system – use nine channels of amplification built-in to the AVR-X3600H and add a two-channel amplifier to power 2 additional surround speakers, Dolby Atmos elevation speakers, or dedicated overhead speakers for the ultimate home theater experience.
Dolby Atmos Height Virtualization Technology provides immersive audio without height channels, creating virtual height effects in a 7.2, 5.2 or 2.2 speaker arrangement.
GEARED UP FOR 4K ULTRA HD
Enjoy your favourite movies, shows and games with the best picture quality available.
ADVANCED HDMI VIDEO SECTION WITH EARC
The AVR-X3600H features 8 HDMI inputs and 3 outputs that support 4K Ultra HD 60Hz video, 4:4:4 Pure Color sub sampling, Dolby Vision Compatible, High Dynamic Range (HDR10), Hybrid Log-Gamma (HLG), eARC, 3D and BT.2020 pass-through support for exceptional colour, clarity and contrast.
eARC (Enhanced Audio Return Channel) supports the transmission of uncompressed immersive audio from your TV with a single HDMI cable for the simplest setup.
ADVANCED VIDEO CONTROLS
HDCP 2.3 processing is available on all HDMI ports, letting you enjoy copy-protected content totally uninhibited. Certified by the Imaging Science Foundation, the AVR-X3600H features a full suite of video calibration controls (for use by an ISF technician), along with ISF Day and ISF Night video modes. Enjoy seamless compatibility with the latest HD and Ultra HD TVs, Blu-ray players and game consoles.
BRILLIANT PICTURE QUALITY
The AVR-X3600H supports High Dynamic Range (HDR10) video format, Dolby Vision Compatible and HLG (Hybrid Log Gamma). Dolby Vision transforms the viewing experiences with astonishing brightness, contrast and colour, and HLG offers HDR10 technology over broadcast content.
EASY SETUP EXPERIENCE
The included AVR-X3600H Quick Start Guide provides simple, clear instructions for how to get started. Once you connect your TV to the AVR-X3600H via HDMI, the exclusive Denon Setup Assistant appears on your TV screen to walk you through setup, step-by-step. A row of color-coded speaker connections is laid out horizontally, making organizing and connecting speaker wires fast and easy.
AUDYSSEY ROOM CORRECTION
Optimize your audio experience with Audyssey MultEQ XT32 for seamless setup of your listening environment. With the supplied measurement microphone, MultEQ XT32 analyzes each speaker's output (including subwoofers) at up to eight measurement locations and generates precision digital filters that optimize each channel for the correct frequency and time domain response. Audyssey Dynamic Volume smooths out disruptive jumps in volume (such as TV commercials), letting you listen at lower levels while still enjoying clear dialogue, music and sound. Audyssey Dynamic EQ provides full-range clarity at any listening level, and Audyssey Low Frequency Containment uses advanced psychoacoustic algorithms to deliver a full-range balance, including deep bass, without disturbing neighbors or people in other rooms of your home. Audyssey Sub EQ HT provides individual DSP tailoring of each subwoofer in a dual subwoofer setup for deeper bass with improved definition. Plus, the Audyssey MultEQ Editor app (available for purchase) lets you view and adjust settings for detailed tuning and customize the sound more precisely to your room and tastes.
BUILT-IN BLUETOOTH AND WI-FI CONNECTIVITY
The heart of your wireless network. For Bluetooth, Wi-Fi and AirPlay 2 wireless streaming connectivity, the Denon AVR-X3600H is equipped with an advanced dual antenna transceiver system for robust streaming even in congested urban environments. Enjoy listening to your favourite audio content wirelessly from your smart devices.
With HEOS Built-in technology play the same song in every room or select a different song for each connected room — the choice is yours. HEOS works with Amazon Alexa and Google Assistant, providing effortless voice control.
HEOS supports free and premium Spotify, Amazon Music, TuneIn, Sound Cloud, Tidal and more.
YOU'RE IN CONTROL
Better control in your back pocket. The free Denon AVR Remote app for iOS and Android makes using the AVR-X3600H even easier — adjust volume, turn it on or off, mute the music, select a source or switch to the HEOS app for wireless music streaming. Download the Denon AVR Remote app and the HEOS app to your smartphone today. Available for both iOS and Android. Use Amazon Alexa, Siri, or Google Assistant to control your music.
QUICK SELECTS FOR USER-FRIENDLY AUDIO TUNING
The Denon AVR-X3600H front panel features four Quick Select buttons that store your preferred audio settings for each source. Switch between TV audio, Blu-ray, media players and more, and the AVR-X3600H adjusts the EQ settings to your preferences for that media source. Use the buttons on the front panel or opt for the same Quick Selects on the AV receiver remote for faster control. Now allows for one-push all zone stereo mode via Quick Select.
SMART TV CONNECTIVITY
Control the Denon AVR-X3600H with your TV remote via the HDMI CEC functionality associated with your TV. The Smart Menu home screen provides you quick access to source and surround mode selections, the AV receiver setup menu and four Quick Selects.
ADVANCED SOUND PROCESSING
For optimum fidelity and the widest dynamic range with lowest distortion, the Denon AVR-X3600H features advanced reference-class 32-bit AKM AK4458/VN D/A converters on all channels. Enjoy consistent high-fidelity and precise channel matching across all channels for the ultimate listening experience.
DSP POWER PROCESSING
Incredible power for your music and movie needs. The AVR-X3600H includes an advanced DSP (Digital Sound Processor) chip for tremendous power processing. With four 300MHz DSP cores that are capable of processing over one billion computations per second, the AVR-X3600H supports the latest video, sound and processing needs.
MULTI-SOURCE, MULTI-ROOM
With the Denon AVR-X3600H, it's possible to enjoy 9.2 channel surround sound in one room and a separate source or music stream in another. Watch a movie in one room while another family member listens to music in a different zone without interruption. Make use of the internal amps to power the speaker or use the zone-pre-outs.
HIGH-RESOLUTION AUDIO
Enjoy superb audio fidelity with your favourite high-resolution audio tracks. The AVR-X3600H with AKM AK4458 32-bit D/A converters features high-resolution audio decoding with multiple lossless file types, including ALAC, FLAC and WAV at up to 24-bit/192-kHz. It's also compatible with 2.8/5.6-MHz DSD files (DSD is the audio coding format of SACD). Play them from memory devices via the front panel USB, or over network sources. The AVR-X3600H also supports other file types such as MP3 and WMA.
PHONO INPUT FOR TURNTABLE/VINYL SUPPORT
With the included phono input, the AVR-X3600H lets you connect your turntable and play vinyl records. Enjoy your collection with exceptional quality and sound.
DUAL SUBWOOFER OUTPUTS
Immerse yourself in evenly distributed, accurate bass. The AVR-X3600H features two subwoofer outputs to smooth out low frequencies and provide better dispersion. No audible peaks or dips — just powerful, room-filling bass.
WORKS WITH LATEST VOICE ASSISTANTS
Enjoy effortless voice control and total flexibility from the leading voice services. Using a smart speaker or your phone, speak commands with Amazon Alexa, Google Assistant and Apple Siri. Ask to play your favourite music, turn the volume up, skip to the next track, switch inputs and more. Switch between voice services or pick a favourite to use — the choice is yours. Functionality varies by voice agent.
WORKS WITH AMAZON ALEXA
Control the AVR-X3600H hands-free with Amazon Alexa and your voice. Adjust the volume, skip to the next track, switch inputs for your different media players and more — "Just Ask." Download the free HEOS Home Entertainment Skill to enable Amazon Alexa voice commands for your AVR-X3600H, HEOS devices and other select Denon products. Requires Alexa app and Amazon Echo, Dot or equivalent.
WORKS WITH GOOGLE ASSISTANT
Start music in the HEOS app, then ask your Google Assistant to control volume, play, pause, skip tracks and more.
AIRPLAY 2 + APPLE SIRI VOICE CONTROL
Use AirPlay 2 to stream music wirelessly to the AV receiver, or group with other AirPlay compatible speakers to fill your home with music. Stream audio from your favourite music services like Apple Music and Spotify or watch videos from services like YouTube and Netflix on any iPhone, iPad, Mac or Apple TV and stream the audio perfectly synced to your speakers. AirPlay 2 also supports multi-room audio – wirelessly stream content to multiple AirPlay 2 compatible devices simultaneously with improved audio buffering to ensure smooth audio playback. AirPlay 2 provides control and grouping of compatible audio devices within the Apple Music or Home app. Use AirPlay 2 in-app or with your voice via Siri.
HEOS BUILT-IN FOR WIRELESS MUSIC STREAMING
Stream your favourite music from anywhere and everywhere around your home with HEOS Built-in technology. Enjoy high quality music from a wide range of streaming services including Spotify® Premium and free, TuneIn, Amazon Music, Soundcloud®, Tidal, Napster, Deezer or local music sources. Control it all seamlessly with the free HEOS app.
PLAY YOUR MUSIC ANYWHERE WITH HEOS SPEAKERS
With the HEOS multi-room function, the Denon AVR-X3600H can connect with any other product with HEOS Built-in, like HEOS speakers, to play music throughout your entire home. Play the same song in every room or select a different song for each connected room — the choice is yours.
HEOS 5:
Bring beautiful sound into larger rooms.
Custom Install Ready
The Denon AVR-X3600H features external control and IP control capabilities for easy customization and compatibility with third-party integration solutions. It offers IP control capability for major third-party control devices, as well as Control4 SDPP (Simple Device Detection Protocol) certification for seamless integration with Control4 home automation equipment. An IR (infrared) remote control jack is on the rear panel for remote control compatibility with other components in your home theater system, and remote monitoring capability is now supported for troubleshooting.
Home Automation Controls with Crestron Connected
By embedding Crestron intelligence in the Denon AVR-X3600H, it allows for seamless communication with Crestron home automation solutions, giving installers a simplified home theater solution and homeowners complete control of their home entertainment system.
100+ Years of Firsts in Audio Technology
Founded in 1910, Denon has a deep heritage of "firsts" in audio technology — from Japan's first audio electronics manufacturer, to producing the world's first commercial CD player and Dolby Atmos-enabled AV receiver. This focused investment in audio R&D ensures you get the latest technology and highest quality with every listening experience.