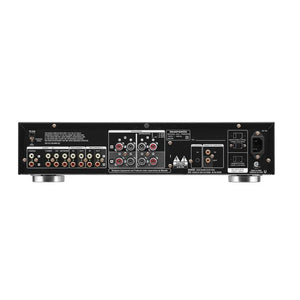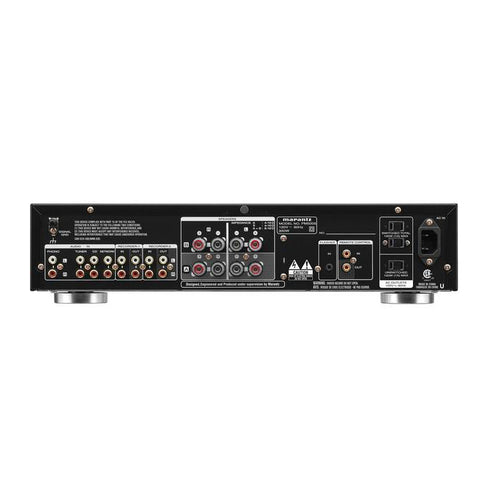 Marantz PM 5005- Stereo Integrated Amplifier
Free Shipping (India)
Brand New Unit(s)
Price Includes GST
Official Manufacturers Warranty
EMI Payment Option Available
3/6 Months - No Cost EMI on All Orders above 30,000
To avail No Cost EMI, please select applicable card offer on the payment screen.
Tax Included.
The Marantz PM5005 stereo integrated amplifier is an audiophile design at an affordable price. This amplifier features all-analogue circuitry from input to output. This helps it deliver a wide frequency response, high dynamic range along with true low impedance drive capability.
Integrated Current Feedback Amplifier with 2x 40W / 8 Ω rms
Gold Plated Inputs/Outputs incl. Phono (MM) input
Marantz proprietary HDAM-SA3 circuits
Selected high-quality audio components
A fully discrete volume amplifier circuit
Tone control and Source Direct function
High-quality Speaker Terminals (A / B switchable)
Headphone output
System remote to control Amplifier, CD-Player and Network Player
This product like all Marantz product we sell comes with a ONE YEAR official India Manufacturers
Warranty!
Current Feedback Amplifier
The Marantz PM 5005 uses current feedback design. This extraordinary circuit accurately tracks quickly changing, wide bandwidth musical signals for greater resolution of fine musical detail. The amplifiers themselves are custom-designed by Marantz entirely with discrete components, so you don't suffer any of the built-in limitations of off-the-shelf integrated circuits.
Hyper Dynamic Amplifier Module
Marantz's notable HDAM SA3, the most recent addition to the Hyper Dynamic Amplifier Module series, performs critical stage-to-stage signal transfers that leave the music unaffected. Most inputs benefit from a common buffer circuit that minimizes unwanted interactions between source and amp. The CD input enjoys a separate buffer for even better isolation. Even the Record Out terminals are buffered for enhanced recording clarity.
Built-in MM Phono Stage
Attention to detail is the order of the day with the Marantz PM5005. Each of the five line-level inputs and the phono input feed a buffer circuit that minimizes any interaction between the source and the Marantz PM5005. That's right, we said a phono input. The built-in MM moving magnet phono stage lets you connect a turntable and will do your vinyl proud. And there's a Source Direct switch so you can bypass tone and balance controls for the shortest signal path from input to output.
Want to record your favourite sources? Just connect the recording device of your choice to the Record Out jacks and begin! Connecting speakers is easy, too. Marantz-designed loudspeaker terminals are easy to use and let you see if there are any problems with your wiring.
Wide Range of Connectivity Options
Veteran audiophiles and new generation music lovers both know that the sonic allure of vinyl records often can't be matched by digital audio sources, and the marantz PM5005 includes multiple analogue inputs including a MM (moving magnet) phono input.
There are also dual recording inputs and outputs, along with a headphone amplifier jack on the front panel, and the high grade speaker connectors can accept multiple speaker cable termination types.
The audio input and output jacks are all gold plated for maximum signal integrity.
Source Direct Function
To ensure the shortest signal path and the highest fidelity, the Marantz PM5005 features our Source Direct function, which bypasses the tone control and loudness control circuitry.
Fully Discrete Volume Amplifier Circuit
The volume amplifier circuit features fully discrete circuitry (no op-amp chips in the signal path) for the widest bandwidth, lowest distortion, and highest dynamic range.
Elegant Remote Control
The elegant remote control includes additional function buttons that let you control a Marantz CD player and a Marantz Network Audio Player, for total system control with a single remote.
Versatile Remote Control Options
The Marantz PM5005 features remote control input and output jacks that let you hard wire the amplifier directly to a Marantz CD player, which in turn can be hard-wired to a Marantz Network Audio Player.
For example, you can place a Marantz CD player on an open shelf for easy access, and place the PM5005 and a Marantz Network Audio Player tucked away in a cabinet and hidden from view, and control all 3 units with a single remote, which helps to eliminate component clutter.
60+ Years of Audiophile Heritage
Founded in 1953, Marantz has a long and rich history of designing audiophile components that have been embraced by music lovers and critical listeners around the world. Because Music Matters so much in our lives, the PM5005 carries on our long tradition of delivering a superlative music listening experience.