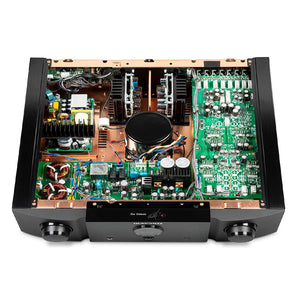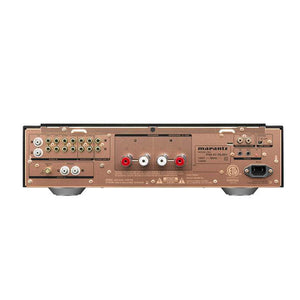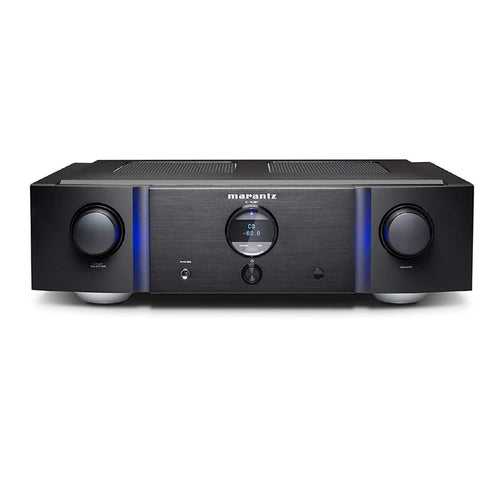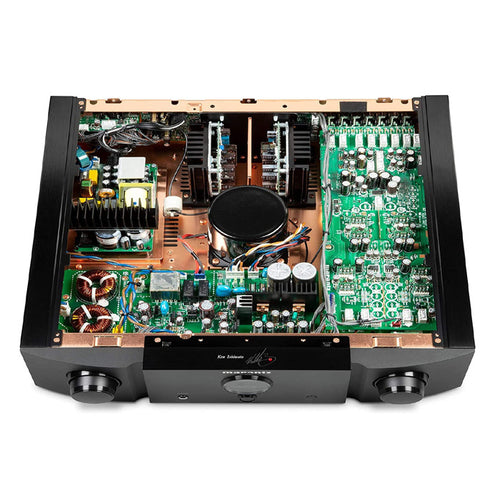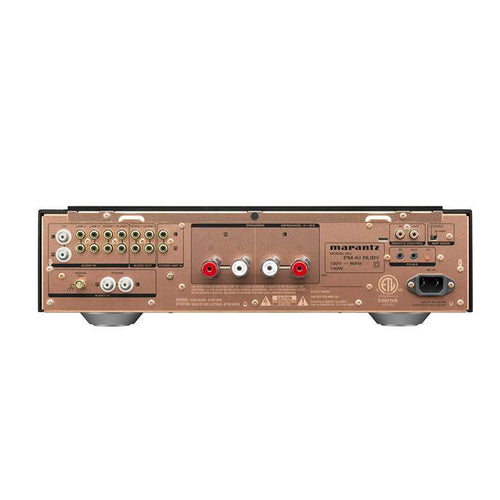 Marantz PM-KI Ruby- Integrated Stereo Amplifier
 

Free Shipping (India)
 Brand New Unit(s)
 Price Includes GST
 Official Manufacturers Warranty
 EMI Payment Option Available
3/6 Months - No Cost EMI on All Orders above 30,000
To avail No Cost EMI, please select applicable card offer on the payment screen.
Tax Included.
About the Marantz PM-KI Ruby
An Anniversary Gift for Audiophiles
Engineer Ken Ishiwata celebrated his 40 years of excellence at Marantz by designing this versatile, elegant, and powerful amplifier. The Marantz PM-KI Ruby generates 100 watts x 2 channels, and it's 4-ohm stable, so it can drive a wide range of speakers well. It features a fully discrete two-stage design with separate power supplies for the pre-amplifier and power amp, and the Marantz FCBS (Floating Control Bus System) lets you link and control up to three subordinate Ruby amps in additional zones.
Convenient Connections
This amp is a dream for analog-loving audiophiles. There are six stereo RCA audio inputs on the back, including a phono input for use with moving coil or moving magnet cartridges. There's also a switch that lets you choose whether the amp will be used in basic stereo mode, or with a second PM-KI Ruby to bi-amp compatible speakers. The amp's preamplifier stage provides exceptional sound quality and performance, thanks to proprietary HDAM® SA3 circuitry.
Features:
40 Year Anniversary Edition:
Designed to celebrate the 40-year anniversary of legendary Marantz sound master, Ken Ishiwata, the PM-KI Ruby features pinnacle performance that's synonymous with Marantz excellence. Complete with thoughtful engineering, painstaking tuning and extensive listening sessions, PM-KI Ruby achieves the elevated output worthy of its name. It even elegantly shows Ishiwata's laser-engraved signature to commemorate the design and heightened listening experience that honors the decades-long partnership between him and Marantz.
Extensive Sound Tuning: Led by Ken Ishiwata's extensive, meticulous approach to tuning, the larger Marantz engineering team applied more than 65 years of experience and HiFi knowledge to create PM-KI Ruby, resulting in a final product that is a testament to Ken Ishiwata and the Marantz legacy.
Carefully Selected Components: Marantz has a steadfast reputation for choosing the best-possible components for its Premium Series products. The Marantz alternative to the "amplifier on a chip" IC components, the HDAM, is a miniature amplifier module built entirely of discrete components. Marantz engineers selected and optimized the HDAM through extensive listening in dedicated Marantz facilities in Europe and Japan. Extensive, painstaking and meticulous tuning has long been the secret of exquisite-sounding Marantz amplifiers. During the development stage, every part is carefully selected, tested and validated by Marantz audio engineers to ensure audio perfection every time you listen.
Balanced Power Amplification:
Drawing on design elements of the PM-10, the PM-KI Ruby is built to leverage enhancements, maintain the purest possible sound and support the power needed to drive the most demanding speakers. The amplifier output stage of the PM-KI Ruby allows a large power output, delivering 100 watts x 2 channel into an 8ohm load, and easily copes with high-impedance speakers thanks to a 200 watts x 2 channel output into 4ohms. The amplifier module connects directly to the rear-panel PCB on the PM-KI Ruby to maintain signal purity and sound stability.
Current Feedback Amplifier: Current Feedback amplification is a well-known, Marantz-original circuit technology, thoughtfully designed to match the requirements of Super Audio hi-res music for wide-bandwidth, high-speed reproduction. The impedance at the Current Feedback point is limited, generating a very low phase shift. Marantz Current Feedback amplifiers reduce the need for phase compensation by minimizing Negative Feedback (NFB). This simplifies the signal path and results in a high through-rate, excellent transient response and superb sonic transparency across the full bandwidth. Unlike conventional Voltage Feedback topology, Current Feedback also makes the power amplifier insensitive to difficult loudspeaker loads.
Marantz HDAM Technology: Marantz developed its own discrete circuit boards called Hyper-Dynamic Amplifier Modules, or HDAMs, to replace the chip-based amps used elsewhere. Using discrete surface mount components with short mirror-image left and right signal paths, HDAMs outperform the regular integrated Op-amps dramatically in Slew Rate and noise level. The result is a much more dynamic, accurate and detailed sound. Over the years, Marantz has developed different HDAMs to fit the particular requirements of players and amplifiers. The PM-KI Ruby uses the latest high-grade SA3 version. Combined with optimized circuit design layout and carefully selected components, the PM-KI Ruby provides exceptional sound quality and performance.
Hypex Switching Power Amplifier Module: The power amplifier contains a Hypex NCore switching power amplifier module. This switching amplifier module minimizes distortion from bass to treble and frequency characteristics are not changed by the impedance of the speakers, achieving extremely high performance.
Floating Control Bus System (F.C.B.S.):
A Floating Control Bus System (F.C.B.S.) enables you to connect up to four PM-KI RUBY integrated amplifiers, making a diversity of applications possible with complete bi-amp and multichannel connections. Moreover, a ground loop is not formed among multiple PM-KI RUBY units connected; so the sound quality is not adversely affected.
Bi-Amp Mode: Two PM-KI Ruby(s) are connected by F.C.B.S in bi-amp mode, enabling each to work as a monaural integrated amplifier.
Stereo Amp Mode: In this mode, this unit works as a standard stereo power amplifier. This mode will be useful in home theater systems.
Pure Analog Design: The purely analog design of the PM-KI Ruby contributes to its noise-reduction structure and clean build. Rather than build the DAC into the amplifier, which would add noise within the chassis, Marantz built the PM-KI Ruby without one and then implemented the DAC in the SA-KI Ruby Super Audio CD Player (sold separately). This eliminated interference with the delicate analog signals passing through the amp, maintaining an analog environment that's as pure and clean as possible.

Multiple Analog Inputs & Outputs: In addition to phono and CD analog inputs, the PM-KI Ruby features two line-level inputs and two pairs of recorder input/output jacks that enable the connection of multiple sources and recorders. Use the PM-KI Ruby as a standalone stereo power amplifier for additional system configuration versatility with the included power amp input, or connect the PM-KI Ruby to an external power amplifier via the stereo pre-amp outputs.

Marantz Musical Premium Phono EQ: Designed to deliver optimal sound quality by simplifying the signal path, the Marantz Musical Premium Phono EQ stage in the PM-KI-Ruby amplifier can be used with both moving magnet and low-output moving coil cartridges, thanks to a built-in MC head amplifier. Distortion is reduced by using two-stage amplification in the phono stage, and Marantz HDAMs are combined with JFETs (junction gate field-effect transistors) in the input stage, giving high input impedance. The exclusion of coupling capacitors further simplifies the design, reducing signal distortion and enhances signal purity.

Heavy-Duty Binding Posts: The Marantz PM-KI Rubber integrated amplifier is equipped with four heavy-duty binding-post terminals for connection of a pair of loudspeakers (8- or 4-ohm) The binding-post terminals will accept bare speaker wire (up to 10AWG) and banana plugs (single only).

Dedicated Headphone Output: Using Marantz-proprietary HDAM discrete modules, the headphone circuit delivers superb audio fidelity with the widest range of headphone types and impedances, including low impedance headphones. The PM-KI Ruby is outfitted with a front-panel 1/4" headphone jack. Plugging in a set of headphones will automatically turn off the integrated amplifier's speaker outputs.

Robust Construction: The PM-KI Ruby integrated amplifier is constructed to the highest standards with a copper-plated chassis to reduce mechanical and electrical interference. A front-panel constructed from thick, heavy, non-magnetic aluminum panels and a 5mm dense aluminum top cover eliminate added interference. Nickel-plated copper independent input terminals for CD and Phono plus Marantz-original high-quality/high-purity copper-plated speaker terminals ensure the best signal possible.

High-Quality Volume & Tone Controls: Newly developed electric volume control uses the latest volume control IC to produce better channel separation, dynamic range, and distortion-reduction while retaining the operational feel of an analog volume control device. The integrated amplifier employs new Marantz-designed electric volume control for high linearity and best-in-class channel separation. The HDAMSA3 is combined with a JRC volume IC to achieve low distortion and high S/N. A range of volumes between 0 and -99.5 dB can be smoothly controlled in ±0.5 dB steps. An electronic tone control amplifier is used to adjust the bass (50Hz) & Treble (20kHz) levels in 1 dB steps within a +/-6 dB range.

Remote Control: Use the elegant remote control to operate the PM-KI Ruby as well as the complementary SA-KI Ruby Super Audio CD Player (sold separately). The PM-KI Ruby also features remote control input and output jacks for additional remote control configuration flexibility.

Auto Standby Mode: The integrated amplifier will automatically switch to standby mode if the unit is not operated for 30 minutes when there is no audio signal input.

Protection Circuitry: Built-in protection circuitry prevents damage to devices within the power supply when an abnormality such as an overload, excess voltage, or over-temperature occurs for any reason. If a malfunction occurs, the power indicator blinks red and the integrated amp switches to standby mode.


Features:
100 watts x 2 channels into 8 ohms (20-20,000 Hz) at 0.05% THD
4-ohm stable for use with a wide range of speakers
Fully discrete two-stage design with separate power supplies for the pre-amplifier and power amp
High-resolution preamplifier stage with proprietary HDAM® SA3 technology
Signal-to-noise ratio: 107 dB
Phono signal-to-noise ratio: 88 dB with MM cartridge, 75 dB with MC cartridge
Marantz FCBS (Floating Control Bus System) lets you link and control up to three subordinate Ruby amps
Laser-engraved Ken Ishiwata signature and Ruby motif
Remote control included
Connections:
6 stereo RCA audio inputs, including a phono input (for use with moving coil or moving magnet cartridges)
Stereo RCA preamp input and selectable "Power Amp" mode for connecting a separate preamplifier
2 stereo RCA audio outputs
3.5mm input/output for FCBS
Single RCA input/output for control of compatible Marantz components
1 pair of binding post speaker connectors
Dimensions and Warranty:
17-3/8"W x 5"H x 17-7/8"D
Weight: 15.69.