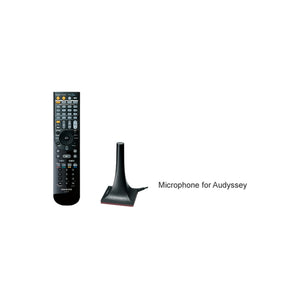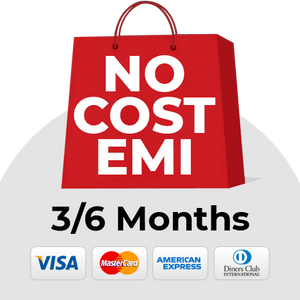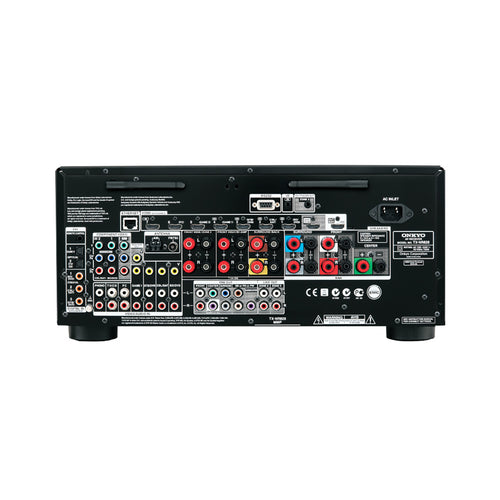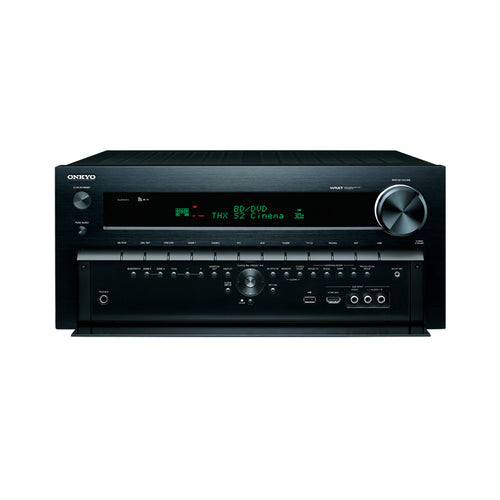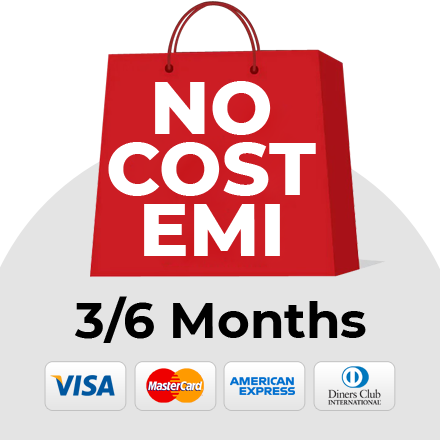 Onkyo TX-NR828 - 7.2 Channel Network AV Receiver (Demo Unit / Without Box Unit)
Free Shipping (India)
Brand New Unit(s)
Price Includes GST
Official Manufacturers Warranty
EMI Payment Option Available
3/6 Months - No Cost EMI on All Orders above 30,000
To avail No Cost EMI, please select applicable card offer on the payment screen.
Tax Included.
Onkyo TX-NR828 - 7.2 Channel Network AV Receiver (Demo Unit / Without Box Unit)
Live Life to the Fullest with an Onkyo Home Theater
The TX-NR828 gives you—the avid music and movie fan—power to make your home entertainment dreams a reality. From the aluminum faceplate through to the banana plug-compatible speaker posts, it's easy to pick this as a heavyweight contender. Three-Stage Inverted Darlington Circuitry on all seven channels effortlessly handles big dynamic gains without distorting—as THX® Select2™ Plus certification attests—with musicality to render audio in extraordinary detail. On the hardware side, 7.2 multichannel pre-outs, powered Zone 2 outputs, and bi-amping capability grant the flexibility to customize. Eight 4K-ready HDMI® inputs including frontside MHL™ enable Dolby® TrueHD and DTS-HD Master Audio™ decoding. Audio processing comes courtesy of Audyssey MultEQ®, Audyssey DSX®, and Dolby® Pro Logic® IIz, while Marvell's outstanding Qdeo™ technology upscales standard video to 4K. Need music right now? With a tap on your smartphone screen, you can serve lossless audio to your home theater—whether its stored on handset, NAS, PC, or online streaming service—using built-in Wi-Fi, or pair up and stream with onboard Bluetooth technology. Owning an Onkyo A/V receiver is not just about having big sound on movie night—it's about maximizing the enjoyment of your daily life.
THX® Select2™ Plus for Reference-Level Sound
To be awarded THX Select2 Plus certification—the most rigorous performance benchmark for this type of product—the home theater receiver must play at studio reference volume levels with minimal distortion. Select2 Plus is specified for screen-to-seat distances of three to four meters and room volumes of about 56 cubic meters.
An Introduction to Premium Hi-Fi Sound
Onkyo's WRAT (Wide Range Amp Technology) includes discrete low-negative-feedback amplifiers for punchy, true-to-life sound; closed ground-loop circuits to reduce noise; and high instantaneous current to counter impedance fluctuations. Three-Stage Inverted Darlington Circuitry is featured on all channels to handle reference-level playback without distorting.
4K Video Upscaling via Qdeo™ Technology
The TX-NR828 uses Qdeo technology from Marvell to upscale standard video sources to brilliantly smooth 1080p (for regular HDTVs) and to an incredible 4K on compatible displays.
Onboard Wi-Fi and Bluetooth Streaming Technology
The TX-NR828 connects to the wireless home network without LAN cables or adapters. Send a huge range of hi-res, lossless, and compressed files to your home theater from smartphone, PC, tablet, NAS, and online sources using our remote control app. Or pair devices for quality wireless streaming using the built-in Bluetooth technology.
Audyssey DSX® and Dolby® Pro Logic IIz®
Audyssey DSX lets you augment your setup with two Front Wide channels, expanding the width of the soundstage, or two Front Height speakers to add a vertical dimension to movies and games. Dolby Pro Logic IIz offers Front Height channels with 7.1-channel upmixing from stereo sources.
App-Controllable Multi-Zone Audio
The TX-NR828 features Powered Zone 2 outputs and Zone 2/3 line-outs. This lets you assign two channels to power audio in a room equipped with speakers. An existing hi-fi system in a third room can also be connected via the line-out, enabling the use of the A/V receiver as a pre-amp and audio server. Control content in all three zones via remote app; play the same song in all zones using Whole House Mode; or enjoy a different song in every room.
ADVANCED FEATURES
THX® Select2™ Plus Certified
4K Passthrough from Compatible Source Devices via HDMI®
Built-in Wi-Fi-Certified Wireless LAN Capability
Bluetooth Version 2.1 + EDR Capability (Compatible Profile: A2DP v1.2, AVRCP v1.3)
Three-Stage Inverted Darlington Circuitry with Discrete Output Stage on All Channels
HDMI Video Upscaling to 4K with Qdeo™ Technology by Marvell
MHL™ (Mobile High-Definition Link) for 1080p Smartphone Media on HDTV
Internet Radio and Music Streaming Service Connectivity (TuneIn Radio, Spotify, and AUPEO!)*1
Playback of Audio Files Over Wireless Home Network (MP3, WMA, WMA Lossless, FLAC, WAV, Ogg Vorbis, AAC, Apple Lossless, DSD, LPCM*2, and Dolby® TrueHD)
Audyssey DSX® and Dolby® Pro Logic® IIz Upmixing for Front High or Front Wide Channels
Audyssey MultEQ® for Room Acoustic Correction
Picture-in-Picture Video Preview with InstaPrevue™ Technology
Supports Onkyo Remote Apps for iPod touch/iPhone*3 and Android Devices*4 for Housewide System Control
Phase-Matching Bass Boost
Powered Zone 2 and Zone 2/3 Line-Outs for Distributed Audio Playback in Multiple Rooms
Whole House Mode for App-Controllable Housewide Audio
7.2 Multichannel Pre-Outs
Bi-Amping Capability
*1 Availability of services depends on region. Some services may require a firmware update.
*2 LPCM is available via DLNA only.
*3 Compatible with iPod touch (3rd generation or later) and iPhone 3GS or later. All models require iOS 4.2 or later.
*4 Requires Android OS 2.1 or later.
AMPLIFIER FEATURES
WRAT (Wide Range Amplifier Technology)
H.C.P.S. (High Current Power Supply) Massive High Power Transformer
Discrete Output Stage Circuitry
Optimum Gain Volume Circuitry
PLL (Phase Locked Loop) Jitter-Cleaning Circuit Technology
PROCESSING FEATURES
HDMI Support for 3D, 4K, Audio Return Channel, DeepColor™, x.v.Color™, LipSync, Dolby TrueHD, DTS-HD Master Audio™, DVD-Audio, Super Audio CD, Multichannel PCM, and CEC
TI Burr-Brown 192 kHz/24-Bit DAC for All Channels
Advanced 32-Bit Processing DSP Chip
4 DSP Modes for Gaming: Rock, Sports, Action, and RPG
Advanced Music Optimizer for Compressed Digital Music Files
Theater-Dimensional Virtual Surround Function
Direct Mode and Pure Audio Mode
Double Bass Function
Non-Scaling Configuration
A-Form Listening Mode Memory
CONNECTION FEATURES
8 HDMI Inputs (1 Front/7 Rear) and 2 Outputs
1 USB Port (Front)
Mass Storage Class USB Memory Playback (Wide Selection of File Formats Supported)
2 Component Video Inputs and 1 Output
5 Composite Video Inputs and 1 Output
5 Digital Audio Inputs (2 Optical and 3 Coaxial)
7 Analog Audio Inputs (1 Front/6 Rear)
Phono Input for Turntable Connection
RS232 Port
IR Input and 12 V Trigger Outs (Zone 2)
Color-Coded, Banana Plug-Compatible Speaker Posts
Headphone Jack
OTHER FEATURES
Audyssey Dynamic EQ® for Loudness Correction
Audyssey Dynamic Volume® Listening-Level Adjustment
Overlaid On-Screen Display (OSD) with Quick Set-Up and Home Menu
Independent Crossover Adjustment for Each Channel (40 ⁄ 50 ⁄ 60 ⁄ 70 ⁄ 80 ⁄ 90 ⁄ 100 ⁄ 120 ⁄ 150 ⁄ 200 Hz)
A/V Sync Control (Up to 800 ms in 10 ms Steps at 48 kHz)
Tone Control (Bass/Treble) for Front L/R Channels
Display Dimmer (Normal/Dim/Dimmer, Volume Knob LED: On/Off)*
40 FM/AM Random Presets
Certified with DLNA Version 1.5
Firmware Updates via Network and USB
Aluminum Front Panel and Volume Control Knob
Compatible with RI Dock for iPod/iPhone and AirPlay (DS-A5)
RIHD (Remote Interactive over HDMI) for System Control
Bi-Directional RI (Remote Interactive) Remote Control
Specifications
| | |
| --- | --- |
| Power Output | 180 W/Ch (6 Ohms, 1 kHz, 1% THD, 1 Channel Driven, IEC); 215 W/Ch (6 Ohms, 1 kHz, 1 Channel Driven, JEITA) |
| Frequency Response | 5 Hz–100 kHz/+1 dB, -3 dB (Direct Mode) |
| Dimensions (W x H x D) | 435 x 198.5 x 398 mm (Height 260.3 mm with antennas raised) |
| Weight | 15.0 kg |