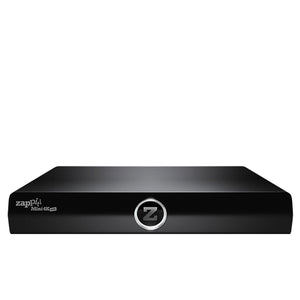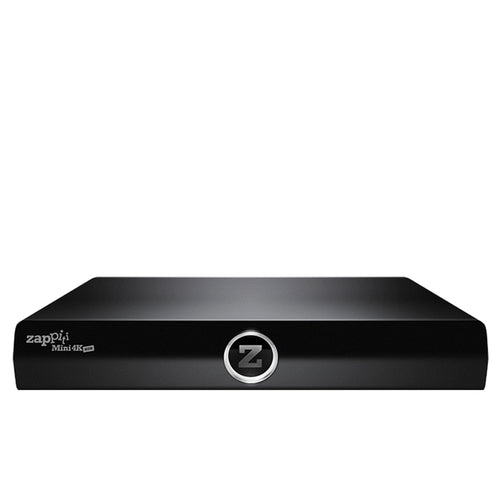 Zappiti Mini 4K HDR -Media Player
Free Shipping (India)
Brand New Unit(s)
Price Includes GST
Official Manufacturers Warranty
EMI Payment Option Available
3/6 Months - No Cost EMI on All Orders above 30,000
To avail No Cost EMI, please select applicable card offer on the payment screen.
Tax Included.
Supporting almost all video and audio formats, codecs and file containers, including all modern video standards such as HDMI 2.0a, Ultra HD 4K, HDR, 3D subtitles and HEVC / H.265 (up to 10-Bit), the Zappiti Mini 4K HDR sets an entirely new standard. The all new Zappiti Mini 4K HDR is equipped with a SATA connector for external HDD (up to 16 TB)and offers powerful Wi-Fi 5G and Ethernet gigabit network capability. The Zappiti Mini 4K HDR is compatible with most audio and video formats such as ISO Blu-ray, M2TS, MKV, home theater audio (Dolby Atmos or DTS:X) and high-resolution lossless audio files up to 32 Bit / 192 kHz. This new player is also compatible with the new Zappiti Media Center v4 application for the best possible home theater experience.
A universal media center
● Zappiti MagicPixel v2: Enjoy outstanding picture quality - far better than the previous generations - with improved dynamics, accuracy colorimetry, increased contrast, solid deinterlacing and better upscaling (up to 4K resolution). Even on a Full HD 1080p TV or a front projector, you will be astounded by the image of your display! 3D also offers better image depth and an impressive, immersive effect.
● HDR: Display your HDR video content, while also providing increased dynamic range on your HDR display (TV/projector).
● 10-Bit: Enjoy powerful 10-bit YUV hardware decoding for professional-quality video display. 10-bit encoding makes it possible to benefit from increased nuances (1.06 billion colors instead of 16 million in 8-bit).
● REC. 2020: Enjoy a wider color space for more saturated and richer colors.
● 4K 50/60p: Display your 4K 50p or 60p video content in 3840x2160p at 50 Hz or 60 Hz.
● Real Cinema: Auto framerate detection 24/50/60p (compatible with both 24.000 Hz / 23.976 Hz video output).
● Up-Scaling 4K: Display your videos with an ultra-high quality upscaling Ultra HD 4K (3840x2160 and 4096x2160).
● 3D Video Support: Enjoy all your 3D movies files (3D BD ISO, MKV 3D MVC) in true Full HD quality (Frame Packing) when linked up to any 3D-enabled TV or front projector for enhanced depth and improved on-screen image detail (two times better resolution than 3D Side-by-Side or Top-Bottom) with 3D subtitle support. Many 3D settings available including: 3D image depth, 3D subtitle depth, 3D interface depth, manual reversal of left-right images.
● Network Player: Connect your Zappiti on your local network and enjoy your content from a PC/MAC or a NAS via SMB.
● SMB Server: Access the contents located on the internal hard drive of the Zappiti Mini 4K HDR (or a connected hard drive) from a computer connected via local network.
● MKV Player: Playback SD, HD and UHD video content in MKV and other modern video file containers and formats, including top quality HEVC/H.265 video codec with very high bit-rates > 400 Mbp/s.
● SATA connector: Easily and quickly connect external SATA HDD (up to 16 TB pre formated HDD).
● USB Ports: Conveniently connect HDDs, USB flash drives, USB card readers and other USB storage devices.
● Ports USB 3.0 and Type-C: Read or copy your files in ultra high speed.
● Full Range of A/V Connectors: S/PDIF optical audio output, audio / video analog output (can be used as headphones output), HDMI 2.0a (Deep Color, xvYCC, 12 bits, and CEC).
● Multichannel home cinema audio: Bitstream, downmix stereo.
● Hi-Res Music Playback: Plays Hi-Res Audio quality (up to 192 kHz / 32-bit) music files in various formats (FLAC, AIFF, ALAC, WavPack, Monkey's Audio APE, DTS, AC3, etc).
● Video Output Flexibility: Output video in any resolution and format including SD, 1080p (1920x1080), Ultra HD
(3840x2160p) and true 4K (4096x2160p) up to 12-bit by primary color (36-bit).
● Many shortcuts and advanced playback features:
- 1-9: direct playback access to 10 - 90%.
- Cursor left and right: 10s rewind and forward.
- Cursor down and up: Fast rewind and forward (up to x32).
● Playback memory: Resume playback from the last position.
● Backlit Remote Control: High quality remote control with many direct access and shortcuts with backlit buttons. Descrete codes for universal remote control and advanced functions to control the audio volume of your TV or AV receiver.
● Bluetooth 4.0: Connect your wireless devices via Bluetooth such as joysticks, headphones, connected speakers ...
● Computer mouse: Connect a computer mouse to control the player and Android Apps.
● Keyboard: Connect a computer keyboard to control third-party applications and more convenient text input in the Zappiti application.
● Complete file management system: copy, cut, past (multitasking), delete, rename.
● Zappiti Media Control: Control your Zappiti player with the virtual remote control via your tablet or smartphone.
● Android: Download and install Android Apps from the GooglePlay. Easy access with streaming contents providers, VOD/SVOD, catch up TV (such as KARTINA TV / КАРТИНА ТВ), musical playback, social networks, news, weather info, trailers, games, internet radio and more… Warning! Some Android apps are not supported!
● Open GUI: Add apps shortcuts to the home page.
Technical Specifications
● Chipset: Realtek RTD1295.
● CPU: ARM® Cortex® CA53 x4 (Quad Core).
● GPU: Mali™-T820 MP3 (3 Core) (equivalent to an Octa-core Mali 450) - DirectX 11.1, OpenGLES 3.1, OpenGL 1.2, FP, ASTC, Renderscript. 4x Multi-Sampling Anti-Aliasing (MSAA).
● Operating System: 64-Bit.
● DSP: Video and Audio DSP with hardware acceleration. Native hardware 10-bit YUV support. Hardware performance optimizations for Zappiti UI.
● Cache: 1 MB L2.
● RAM: 2 GB DDR4.
● NAN eMMC: 8 GB (5.0).
● Connectors: HDMI 2.0a (HDCP 2.2, TX/RX, CEC, Deep Color, 12 bits, xvYCC, MHL 3.0), 2x USB 2.0, 1x USB 3.0, audio / video analog output (both analog and digital outputs are active at the same time), S/PDIF optical digital audio output (Toslink), LAN Gigabit (10/100/1000 Mb/s), Wi-Fi 5G, SD / MMC card reader, AC connector, AC button On/Off (at the back), LED display on front panel controlled with RC.
● SATA connector: Easily and quickly connect external SATA HDD (up to 16 TB pre formated HDD) to the Zappiti Mini 4K HDR with fast connexion (up to 6 Gbit/s in SATA III).
Warning! The hard drives dedicated to NAS servers, such as WD RED, are not compatible.
● Media sources: External HDD (USB), USB devices (USB flash drive, USB card reader, etc), built-in SD card reader (SD/SDHC/MMC), PC and NAS in local network (SMB, UPnP, HTTP), other Internet and local network media sources. External multi-bay USB storage enclosures supported.
● Easy and fast file transfers: up to 90 MB/s via SATA, 70 MB/s via USB 3.0 / 115 MB/s via Ethernet.
● Internet navigator: Connect a computer mouse and keyboard to browse Internet as on a computer.
● DLNA: Full support of DLNA standard (1.5 or 2.0).
● SMB Server: Zappiti Share, OpenWRT
● Video codecs: HEVC, H.265, x265 (up to Main10 Level 6.1 High 60p in 4K), MVC, AVC, MPEG-2, MPEG-4, VC-1, H.264/x.264 (up to 60p in Full HD and 24p/20 Mbps in 4K), FLV, AVS, XVID, DIVX (from version 4), Sorenson Spark L70, VP9 HW (up to 4K 60p) ; ultra high bitrate support (up to 400 Mbit/s in HEVC 4K).
● Video file formats: 3D BD ISO, BD ISO, BDMV, MKV, MKV 3D, MK3D, MPEG-TS, MPEG-PS, MPEG, MPE, MPG, TS, TP, M2TS, VOB, AVI, MOV, MP4, QT, WebM, DVD-ISO, VIDEO_TS, RMVB, RM, DAT, VOB, 3GP, FLV, DAT, AVCHD 2.0 (AVCHD 3D, AVHD Progressive).
● Video output flexibility: Output video in any resolution and format from SD to 1080p, Ultra HD (3840x2160) and 4K (4096x2160). Up to 4K 60p. Display your movies in true 24p (23,976 Hz ouput).
● Audio codecs: AC3, DTS MPEG, MP3, ALAC, APE, M4A, AIFF, WAV, WMA, VSELP, FLAC, AAC, AAC-LC, HEAAC, HE-AAC v2, AMR-NB, OGG (Ogg/Vorbis), RA_COOK, LPCM, PCM, ADPCM, FLA ; lossless and audiophiles formats support (up to 192 kHz / 32-bit). MQA support.
● Audio playback functions: Album cover / artist / category thumbnail support (folder.jpg), folder playback, random (shuffle), repeat playlist, repeat title. Musical slideshow for live concerts. Display the internal pages of album booklet or the back cover.
● Multichannel home cinema audio: Bitstream, downmix stereo (DTS, DTS-HD MA, DTS-HD HRA, DTS:X, Dolby Digital, Dolby Digital EX, Dolby Digital Plus, Dolby TrueHD, Dolby Atmos). Warning! In SPDIF output, multichanel HD audio formats are donwmixed in stereo. Only HDMI can support HD audio formats such as Dolby TrueHD or DTS-HD.
● Subtitle formats: SRT (Subrip / external), SUB (MicroDVD) (external), text (MKV), SSA/ASS (sous-station alpha / MKV, external), VobSub (MP4, MKV, SUB/IDX external), SMI (Sami), IDX, PGS (BD ISO, BDMV, M2TS, MKV), DVBSUB (DVB-T, DVB-S, DVB-C). Download subtitle option. 3D subtitles support with depth settings. Multi-coding. Multiple external subtitles.
● Subtitle options: Download subtitle option. 3D subtitles support with depth settings. Multiple external subtitles. Size, sync, color, coding. Modify the vertical position, included on PGS (Blu-ray subtitles).
● 3D Hardware acceleration: OpenGL.
● Photo file formats: JPEG (hardware decoding), PNG, BMP, GIF (resolution up to 8192x8192 pixels). Musical slideshow option with dynamic transition effects.
● Supported formatting: FAT16/FAT32 (read-write), EXT2/EXT3 (read-write), NTFS (read-write), MAC OS / HFS+ journaled (read-write).
● Ethernet: 10/100/1000 Mb/s.
● Wi-Fi: 8IEEE 802.11a/b/g/n, 802.11AC, 2.4 GHz / 4.900 GHz ~ 5.845 GHz (5.0 GHz ISM Band). Dual band. Dual external antenna.
● Bluetooth 4.0: BT4.0
● Android 6.0: Install and enjoy additional apps via GooglePlay. Warning! Some Android apps are not suitable for use with the remote control. In this case, use a connected computer mouse or an AirMouse (not supplied).
● Mirroring audio / photo / video : Mirroring your smartphone or tablet device's display and sound on your TV, showing off photos from a recent trip, or listening your favorite songs.
● Network playback: Special optimisation of the network, guaranteeing better performances of the local network playback no matter which type of media thanks to SMB protocol (HEVC UHD files included) via Gigabit Ethernet or Ethernet 10/100.
● Universal RC: Integrate seamlessly into smart home installations via ready-to-use Control4 driver, RTI driver Crestron IP codes, Logitech, Pronto, and general IP codes. Power ON and Power OFF discrete codes.