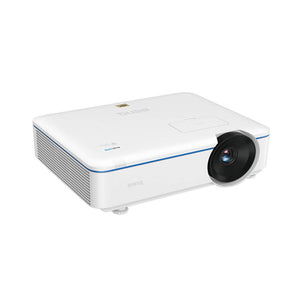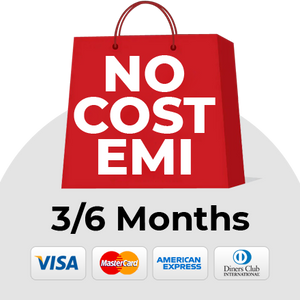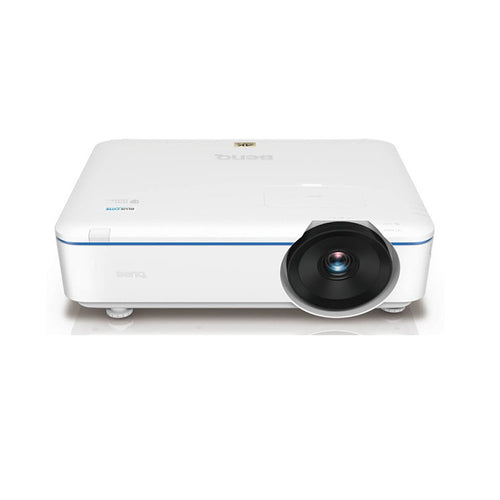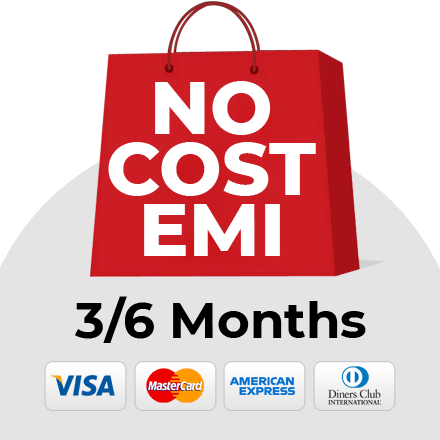 BenQ LK952 5000-Lumen HDR 4K UHD XPR Laser DLP Projector
Free Shipping (India)
Brand New Unit(s)
Price Includes GST
Official Manufacturers Warranty
EMI Payment Option Available
3/6 Months - No Cost EMI on All Orders above 30,000
To avail No Cost EMI, please select applicable card offer on the payment screen.
Tax Included.
Present in nearly any environment with the BenQ LK952 5000-Lumen HDR 4K UHD XPR Laser DLP Projector. Its 5000 lumens of brightness overcomes ambient light in many situations, while its 3,000,000:1 dynamic contrast ratio helps keep images and text clear and distinct. Its 1.36 to 2.18:1 throw ratio and 1.6x zoom provide a range of installation options.
The LK952 has HDBaseT, VGA, and three HDMI inputs to support both analog and digital video sources. Its VGA and HDMI outputs allows you to daisy-chain multiple projectors or displays to show the same video source. A built-in 10W speaker eliminates the need for a separate speaker system, but the projector also features an 1/8" audio output to connect external speakers. It is controllable via Ethernet, HDBaseT, or RS-232 and includes a remote control.
BlueCore Laser Technology
Enhanced Brightness
The virtually zero-deviation alignment of the BlueCore laser diodes helps boost luminous flux into the light tunnel to produce up to 5000 lumens of brightness.
Secondary Yellow-Infused Color Wheel
Dual synchronized BlueCore color wheels use an additive yellow segment, simulating the RGBY spectrum for augmented chromatic performance.
Hermetically Sealed DLP Chip
The DLP chip is hermetically sealed to resist heat to help it provide up to 100,000 hours of life without degradation.
Designed for Long-Lasting Image Quality
4K UHD Image Quality for Enhanced Detail
The LK952 produces an on-screen resolution of 3840 x 2160 to help produce enhanced clarity and detail.
DLP Technology
The BlueCore line of projectors use a single DLP chip designed to produce true-to-life colors and legible text.
HDR10 Compatibility for Enhanced Realism
Featuring HDR10 support, BenQ's Auto HDR Color Rendition technology enhances brightness, contrast range, and optimizes the overall image quality in a single step.
4K Image Amplifying Technology
This technology helps further augment the quality of projected images by automatically upgrading the resolution of all projected images to 4K. Additionally, Pixel Enhancer 4K – a motion-adaptive edge-enhancement feature – is designed to detect changes in the color between an object and its background to produce sharp edges and surface textures.
High Brightness for Clarity in Bright Environments
The LK952 outputs up to 5000 lumens of brightness, allowing presenters and participants to deliver their presentations in comfortably lit, medium-sized conference rooms.
Laser-Powered High Dynamic Contrast
Thanks to its laser light source, the LK952 provides up to a 3,000,000:1 dynamic contrast ratio for deep blacks, vivid colors, and fine detail. It also features spontaneous response, requiring virtually no wait time to turn it on or resume from screen blanking.
HDMI Output for Stacked and Multi-Screen Projection
For exhibition spaces, public venues, and large meeting rooms, multiple projected screens can offer enhanced viewing experiences for the audience. Two projectors can also be stacked to double the brightness of a single image. With the HDMI output, a digital signal is sent to other projectors or displays with virtually no signal degradation.
DICOM Simulation Mode
The LK952 offers a DICOM Simulation Mode that allows the projector to simulate the results of devices compliant with the Digital Imaging and Communications in Medicine (DICOM) Part 14 standardized display function, for display of grayscale images. The DICOM Simulation Mode, which supports both Blue and Clear Base, adjusts the gradation between the minimum and the maximum luminance, so gradation is distributed optimally. This feature is optimized for displaying medical images such as X-rays, CAT scans, and MRIs, which makes the LK952 useful for non-diagnostic purposes such as lectures, academic meetings, and hospital conferences. This feature is recommended for use in medical schools for training and educational use only.
Installation Flexibility
360° Rotation Projection
The LK952 can be tilted vertically at any angle, allowing projection onto ceilings, walls, floors, or angled signage to fulfill nearly any projection demand.
Zoom and Lens Shift
The horizontal and vertical lens shift options, as well as 1.6x zoom, help you align images in nearly any challenging venue, such as when lights or vents are located in the mounting area. Lens shift enables you to move the image up or down by 60% of the screen height or left or right by 23% of the screen width, while the zoom offers a wider range of throw distances for installation flexibility in various scenarios.
Remote Control Projector ID Setting for Independent Control
Installers and IT managers can assign a specific remote control ID to each projector, avoiding signal interference and unintentional changes when installing multiple projectors in a venue.
Bottom Surface Grip Design
The LK952 is designed with grips on its bottom surface to help safely transport the projector during installation or moving from one venue to another.
Center-of-Gravity Mark on Case Bottom
The bottom of the projector has a mark indicating its center of gravity to help make installation easier.
Wired Remote Control Option
The wired remote control option allows installers and IT managers extra setup convenience and ease of operation for enhanced dependability.
One-Button Startup to Full HD Wireless Presentations
The LK952 is compatible with the optional BenQ InstaShow WDC10, a zero-software solution that allows up to 16 presenters to lead from nearly any device.
Engineered for Enhanced Reliability
IP5X DustGuard Pro for Dustproofing
The LK952 is designed with sealed laser modules and enclosed light engines to help protect the DMD chip, color wheel sensor, laser bank, and other optical components, helping to eliminate color wheel sensor failure, visible spots on the image, and color decay for reduced service costs and downtime.
Anti-Dust-Accumulation Sensor Helps Resist Dust Buildup
The color wheel features a sensor with an anti-dust-buildup feature, helping to prolong optimal performance by repelling dust that can accumulate on the sensor and block the IR signal, which can cause flickering, abnormal colors, or shutdown.
Designed for up to 20,000 Hours of Performance
The laser light source can last up to 20,000 hours, resisting color decay over time, making the LK952 well suited for presentation or exhibition applications.
High Altitude Mode for Elevated Environments
Equipped with an integrated air pressure sensor, the LK952's High Altitude Mode automatically alerts you to enable efficient cooling and properly maintain operating temperatures in high-altitude environments with thinner atmospheres.
Engineered for Low Maintenance Costs
Laser Light Source Provides Value over Time
With the laser light source lasting up to 20,000 hours of maintenance-free operation, the costs associated with lamp replacement and maintenance are virtually eliminated. Based on the average brightness cutoff of typical lamps, the laser light source can exceed 10 lamp replacements over the lifetime of the laser.
Integrated Network Control and Management System Compatibility
Designed for Comprehensive Control System Compatibility
The LK952 is compatible with a number of projector control systems, including Extron, Crestron, AMX, and PJ-Link for network control via LAN, making it simple to integrate into corporate network infrastructures. When there is no LAN infrastructure, the LK952 also supports RS-232 for reliable long-distance installations up to 49'.
Centralized Control with BenQ MDA Software
BenQ Multiple Display Administrator (MDA) software provides centralized multiple-projector management, including automated opening and closing procedures for public spaces, remotely controlled power on and off, and scheduling for institutions and corporations.
HDBaseT Compatibility
HDBaseT connectivity combines video, audio, and device control signals from multiple sources including computers, laptops, document cameras, and Blu-ray players onto a single CAT5 cable, helping to ensure seamless transmissions up to 328'.
Image Display
Display System
0.47" DC3 DMD DLP
Native Chip Resolution
1920 x 1080 (Full HD)
On-Screen Resolution
Up to UHD 4K (3840 x 2160) via Pixel-Shift Technology
Max Brightness
5000 Lumens
Aspect Ratio
Native: 16:9
Dynamic Contrast Ratio
3,000,000:1
Color Depth
10-Bit (1.07 Billion Colors)
Scan
Horizontal: 15 to 135 kHz
Vertical: 24 to 120 Hz
Lens
Focus
Manual
Lens Shift
Vertical: ± 60%
Horizontal: ± 23%
Optical Zoom
Manual: 1.6x
Throw Ratio
1.36 to 2.18:1
Projection Size
30 - 300" / 76.20 - 762.00 cm
Features
| | |
| --- | --- |
| Keystone Correction | Manual-Vertical: ± 30° |
| Ceiling Mountable | Yes |
| Built-In Speaker | Yes |
| Speaker Power | 10W |
| Projection Tilt Option | Yes |
Input/Output Connectors
Inputs/Outputs
1 x HDBaseT (RJ45) Audio, Control, Video
3 x HDMI (HDMI Type-A) Audio, Video Input
1 x HDMI (HDMI Type-A) Audio, Video Output
1 x VGA (DE-15/DB-15) Video Input
1 x VGA (DE-15/DB-15) Video Output
1 x 1/8" / 3.5 mm Mini Audio Input
1 x 1/8" / 3.5 mm Mini Audio Output
1 x RJ45 LAN
1 x 1/8" / 3.5 mm Mini Remote
1 x RS-232 (DE-9/DB-9) Control Input
1 x 12 V Trigger Control Output
1 x USB 2.0 (Mini-USB) Service
1 x USB 2.0 (USB Type-A) Power Output
General
Light Source
Laser Phosphor
Expected Lamp Life
Medium Brightness: 20,000 Hours
Fan Noise
Full Brightness: 40 dB
Low Brightness: 38 dB
Security
Cable Lock Slot
Security Bar