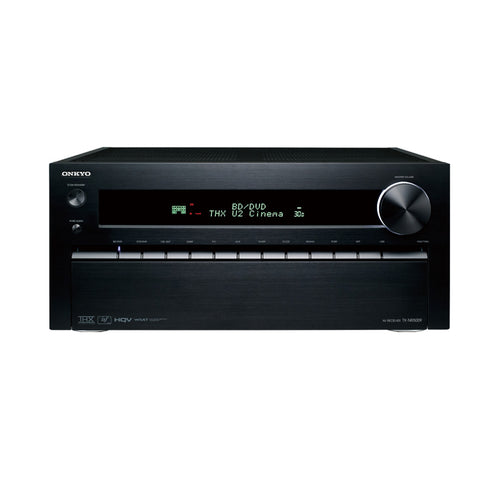 Onkyo TX-NR5009 - 9.2 Channel Network AV Receiver (Demo Unit / Without Box Unit)
Free Shipping (India)
Brand New Unit(s)
Price Includes GST
Official Manufacturers Warranty
EMI Payment Option Available
3/6 Months - No Cost EMI on All Orders above 30,000
To avail No Cost EMI, please select applicable card offer on the payment screen.
Tax Included.
Onkyo TX-NR5009 - 9.2 Channel Network AV Receiver (Demo Unit / Without Box Unit)
Carrying the Onkyo Legacy Forward with Power and Panache
As Onkyo's new flagship home network receiver, the TX-NR5009 packs the ultimate in clean power, precise processing, and abundant connectivity. Power is delivered through a massive toroidal transformer and multiple transformers for A/V processing, with the chassis encased in separate panels to reduce vibrations. Gold-plated HDMI® terminals, speaker posts, and A/V inputs speak to build quality of the highest order. Video output from the TX-NR5009 benefits from advanced HQV® Vida™ processing, ISF video calibration, and 4K upscaling via Qdeo™ technology. Audio, meanwhile, is processed via high-end 192 kHz/32-bit TI Burr-Brown DACs, with support for DSD Direct from SACD and DTS Neo:X™ surround-sound processing. Audyssey MultEQ® XT32 gets the most out of movie and game soundtracks and fills your music with energy and pure musicality. As your all-purpose switching center, the TX-NR5009 includes eight 3D-ready HDMI inputs, 9.2-multichannel pre-outs, and an Ethernet port for internet radio and PC audio. Stringent THX® Ultra2 Plus™ quality assurance guarantees stellar performance in even the largest home theater spaces.
THX® Ultra2 Plus™ Certified
The ultimate benchmark for home audio performance, THX Ultra2 Plus is specified for rooms where the screen-to-seat viewing distance is more than 4 meters and the room volume is 85 cubic meters or greater. To achieve THX Ultra2 Plus certification, the TX-NR5009 must meet the world's most demanding standards for home theater audio quality and performance, and must play at reference volume levels with minimal distortion.
Massive Toroidal Transformer and Two Separate Transformers
Onkyo's H.C.P.S. (High Current Power Supply) has the ability to respond to the wide dynamic range of home theater. A massive toroidal transformer efficiently delivers a steady source of power under any conditions. It has been designed to minimize noise radiation into the surrounding circuitry for a super-clean signal. In addition, the TX-NR5009 features separate transformers for audio and video processing, which means the system works more comfortably and efficiently.
Burr-Brown 192 kHz/32-Bit Audio DACs
The TX-NR5009 incorporates high-quality 192 kHz/32-bit Burr-Brown digital-to-analog converters. These next-generation DACs employ an advanced Texas Instruments architecture to achieve excellent dynamic performance and improved tolerance to clock jitter. Components incorporating these DACs promise many years of compatibility and high performance.
ADVANCED FEATURES
THX® Ultra2 Plus™ Certified
HDMI® Support for 3D, Audio Return Channel, DeepColor™, x.v.Color™, LipSync, Dolby® TrueHD, DTS-HD Master Audio™, DVD-Audio, Super Audio CD, Multichannel PCM, and CEC
Massive Toroidal Transformer and Two Separate Transformers for Audio and Video Processing
Two Customized 22,000 μF Capacitors for Effective Power Supply
Separate Anti-Vibration Panels
VLSC™ (Vector Linear Shaping Circuitry) for All Channels
High-Quality HQV® Vida™ VHD1900 Video Processor
ISF (Imaging Science Foundation) Video Calibration for Optimal Video Performance
HDMI Video Upscaling to 4K with Qdeo™ Technology by Marvell
DTS Neo:X™, Audyssey DSX™, and Dolby® Pro Logic® IIz for Expanded Surround Channels
Audyssey MultEQ® XT32 to Correct for Room Acoustics
Direct Digital Connection of iPod/iPhone via Front-Panel USB Port
Supports Onkyo Remote Apps for Control of A/V Receiver via iPod touch/iPhone*1 and Android Phone*2
Playback of Audio Files Through Local Network (MP3, WMA, WMA Lossless, FLAC, WAV, Ogg Vorbis, AAC, LPCM)
Internet Radio and Music Streaming Connectivity (vTuner, Spotify, AUPEO!)*3
Bi-Amping Capability
DSD Direct for Super Audio CD
Powered Zone 2/3 and Zone 2/3 Pre-Outs, and Zone 2 Video Out for Distributed A/V Playback in Multiple Rooms
Gold-Plated HDMI Terminals (2 Inputs and 1 Output Only)
Gold-Plated, Machined Solid Brass A/V Terminals (19 mm-Pitch Inputs for TV/CD and Phono)
Customized, Gold-Plated, Color-Coded, Banana Plug-Compatible Speaker Posts
*1 Compatible iPod/iPhone models: iPod touch 3rd generation or later; iPhone 3GS or later.
(All models require iOS 4.2 or later.)
*2 Requires Android OS 2.1 or later.
*3 Availability of services depends on region.
AMPLIFIER FEATURES
WRAT (Wide Range Amplifier Technology)
Three-Stage Inverted Darlington Circuitry
H.C.P.S. (High Current Power Supply) Massive High-Power Transformer
Linear Optimum Gain Volume Circuitry
PLL (Phase Locked Loop) Jitter-Cleaning Circuit Technology
PROCESSING FEATURES
Dolby® TrueHD and DTS-HD Master Audio™ Decoding
TI Burr-Brown 192 kHz/32-Bit DACs (PCM1795 x 6) for All Channels
Advanced 32-Bit Processing DSP Chip
4 DSP Modes for Gaming: Rock, Sports, Action, and RPG
Advanced Music Optimizer for Compressed Digital Music Files
Handles Playback of Mass Storage Class USB Memory
Theater-Dimensional Virtual Surround Function
Direct Mode and Pure Audio Mode
CONNECTION FEATURES
8 HDMI® Inputs (1 Front/7 Rear) and 2 Outputs
Universal Port for Onkyo Peripheral Devices Such as UP-A1 Dock for iPod/iPhone
2 USB Ports (1 Front/1 Rear)
Compatible with UWF-1 Wireless LAN Adapter (via Front-Panel USB Port)
3 Component Video Inputs and 1 Output
5 Composite Video Inputs and 2 Outputs
4 S-Video Inputs and 2 Outputs
Analog RGB Input (D-sub, 15 pin) for PC Video
7 Digital Audio Inputs (4 Optical and 3 Coaxial)
7 Analog Audio Inputs and 1 Output
Phono Input
Color-Coded, 7.1 Multichannel Inputs
Color-Coded, 9.2 Multichannel Pre-Outs (Including 2 Independent Subwoofer Pre-Outs)
RS232 Port, IR Input/Output, and 12 V Trigger Out (Zone 2/3)
OTHER FEATURES
Overlaid Graphical On-Screen Display (OSD) and GUI Navigation via HDMI
Audyssey Dynamic EQ® for Loudness Correction
Audyssey Dynamic Volume® to Maintain Optimal Listening Level and Dynamic Range
Dolby® Volume for Reference-Quality Listening at Any Volume
Independent Crossover Adjustment for Each Channel (40 ⁄ 50 ⁄ 60 ⁄ 70 ⁄ 80 ⁄ 90 ⁄ 100 ⁄ 120 ⁄ 150 ⁄ 200 Hz)
A/V Sync Control (Up to 800 ms in 5 ms Steps)
Tone Control (Bass/Treble) for All Channels
Light Dimming (Display: Normal/Dim/Dimmer; Volume Knob LED: On/Off)*
40 FM/AM Random Presets
Certified with Windows® 7 and DLNA Version 1.5
RIHD (Remote Interactive over HDMI) for System Control
Bi-Directional, Preprogrammed, and Customizable RI Remote Control with On-Screen Setup, Mode-Key LEDs, and Macro Presets for Four Activities
Specifications
| | |
| --- | --- |
| Frequency Response | 5 Hz–100 kHz/+1 dB, -3 dB (Direct mode) |
| WHD | 435 x 198.5 x 463.5 mm |
| Weight | 25.0 kg |