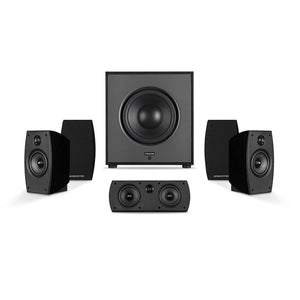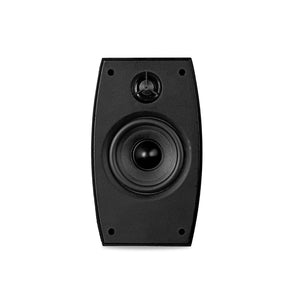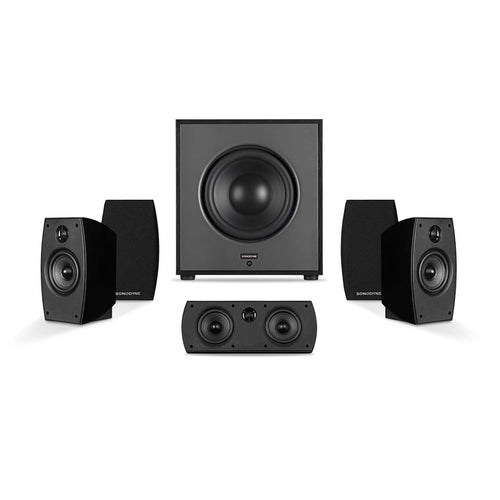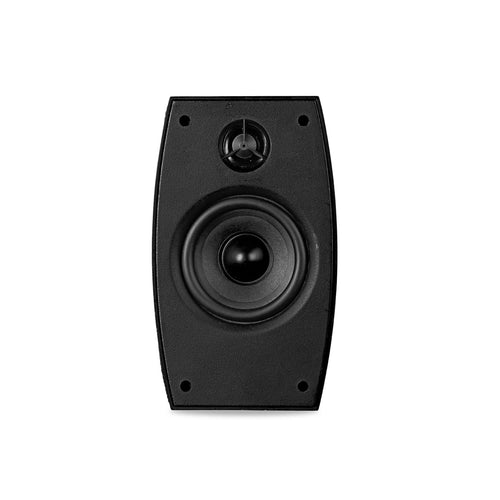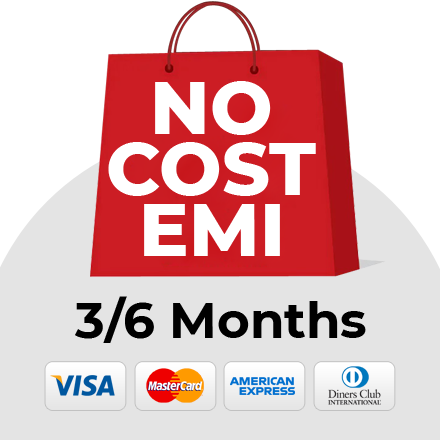 Sonodyne Micro HTS1 - 5.1 Speaker Package
Free Shipping (India)
Brand New Unit(s)
Price Includes GST
Official Manufacturers Warranty
EMI Payment Option Available
3/6 Months - No Cost EMI on All Orders above 30,000
To avail No Cost EMI, please select applicable card offer on the payment screen.
Tax Included.
Sonodyne Micro HTS1 - 5.1 Channel Speaker System
MICRO HTS1
The Micro HTS1 is a complete 5.1 speaker system comprising main channel speakers and a powered subwoofer. The centre channel is Micro 3002 and the LR and surrounds, Micro 3001. The Subwoofer is 100 watt, 8" device, Together, this system is tone matched and produces spectacular multichannel audio in premium spaces.
In the box:
4 x Micro 3001 with brackets

1 x Micro 3002 with bracket

1 x 100 watt powered subwoofer
Highlights:
4 x Micro 3001 satellites

1 x Macro 3002 centre

1 x 100 watt, 8" powered subwoofer

Wall mount included

Recommended AVR : 60 ~ 100 watt per channel, 8 ohm
SURROUND SOUND SET-UP
For positioning the Micro 3001 main left and right speakers, place them at ear level, with at least 6 - 8 ft between and angled slightly toward the listening position or the sweet spot. For positioning the Micro 3001 surround left and surround right speakers, place the speakers to the left and right of your listening position. Angle them so that they point towards you for the best sound. If side placement is not possible, place them a few foot behind your listening position and face them forward. For details of mounting, please refer to the manual of Micro 3001. Experiment for best results.
For positioning the Micro 3002 center speaker place it at ear level, in the middle between the left and right speakers. For details of mounting, please refer to the manual of Micro 3002.
ACOUSTICS OF THE LISTENING ROOM
The acoustical makeup of your listening room is key in determining how good (or bad) is the sound that reaches your ear. The contents of a room (carpets, curtains, furniture etc.), its shape, and the material of which the boundaries are made, make or break your sound. The idea is to have a listening area where the absorptions and reflections are calibrated to attain, as far as possible, a neutral environment. While there are no 'quick fix' formulae to convert a room to an 'ideal listening room', here are some things that you might try to attain optimal performance.
In your listening room, clap your hands, snap your fingers, and jingle a ring of keys. If the resulting sound is unintelligible (muffled), and resonating, your room is inclined toward being reflective. In this event, you might want to: Hang up curtains/ lay a carpet or rug / introduce book cases/ other racks. In the event that the resulting sound is too damped your room is inclined toward being absorptive. You might want to remove some of the absorptive material (like those given above).
MICRO 3002 SPECIFICATIONS
| | |
| --- | --- |
| DESCRIPTION | 2 way speaker , ported |
| ENCLOSURE | ABS |
| TRANSDUCER COMPLEMENTS: HF | 0.5 inch polycone tweeter |
| TRANSDUCER COMPLEMENTS: LF | 2 x 3 inch woofer |
| RECOMMENDED AMPLIFIER POWER | 40 - 120 watt |
| NOMINAL IMPEDANCE | 8 Ohm |
| SENSITIVITY (1 W 1M) | 90 dB |
| FREQUENCY RESPONSE (-3 dB) | 100Hz - 20kHz |
| FREQUENCY RANGE (-10 dB) | 70Hz - 22kHz |
| CROSSOVER FREQUENCY | 3.5 kHz |
| INPUTS | Binding post |
| COLOURS | Black / White |
| DIMENSIONS (HXWXD) | 100 mm x 261 mm x 100 mm |
| NET WEIGHT | 1.3 kg |
| MOUNTING OPTIONS | Wall mount bracket (inlcuded) |
| PACKED IN | Single |
MICRO 3001 SPECIFICATIONS
| | |
| --- | --- |
| DESCRIPTION | 2 way speaker , ported |
| ENCLOSURE | ABS |
| TRANSDUCER COMPLEMENTS: HF | 0.5 inch polycone tweeter |
| TRANSDUCER COMPLEMENTS: LF | 3 inch woofer |
| RECOMMENDED AMPLIFIER POWER | 40 - 100 watt |
| NOMINAL IMPEDANCE | 8 Ohm |
| SENSITIVITY (1 W 1M) | 87 dB |
| FREQUENCY RESPONSE (-3 dB) | 100Hz - 20kHz |
| FREQUENCY RANGE (-10 dB) | 80Hz - 22kHz |
| CROSSOVER FREQUENCY | 6.5 kHz |
| INPUTS | Binding post |
| COLOURS | Black / White |
| DIMENSIONS (HXWXD) | 171 mm x 100 mm x 108 mm |
| NET WEIGHT | 0.75 kg |
| MOUNTING OPTIONS | Wall mount bracket (inlcuded) |
| PACKED IN | pairs |
ROARR 1108 SPECIFICATIONS
| | |
| --- | --- |
| DESCRIPTION | Front firing powered subwoofer ,vented |
| ENCLOSURE | MDF |
| TRANSDUCER COMPLEMENTS | 1 x 8'' high excursion subwoofer |
| AMPLIFIER CLASS | Class AB |
| AMPLIFIER POWER | 100 W |
| AMPLIFIER THD | 0.1% at rated power |
| MAX SPL | 109 dB |
| FREQUENCY RESPONSE | 35 Hz (-3 dB) |
| FREQUENCY EXTENSION (-10 DB) | 30 Hz |
| LOW PASS FILTER | 50 Hz ~ 150 Hz |
| PHASE | Switchable: 0 degrees and 180 degrees |
| INPUTS | Left and Right unbalanced RCA type |
| INPUT SENSITIVITY | 80 mV at level control max |
| CONTROLS | Level control, frequency control |
| FINISH | Front: Ash; Outer skin: Option of Black ash or Rosewood |
| DIMENSIONS (HXWXD) MM | 330 x 330 x 429 |
| POWER CONSUMPTION | 130 W Max. |
| NET WEIGHT | 11.7 kg |
| IN THE BOX | Mains cord, user's manual, Screw-on spike, disc and tightening lever |