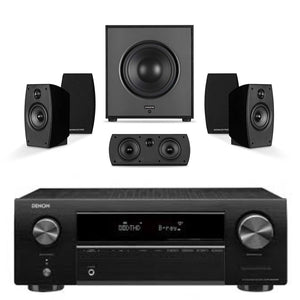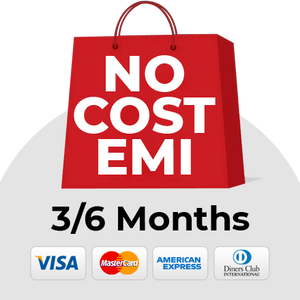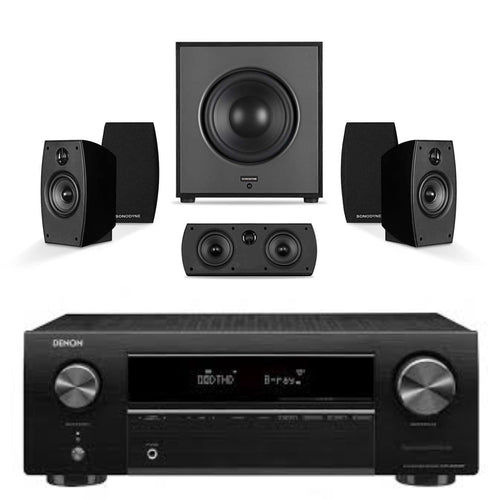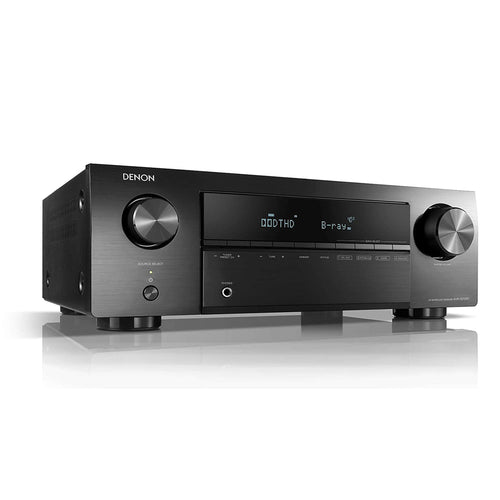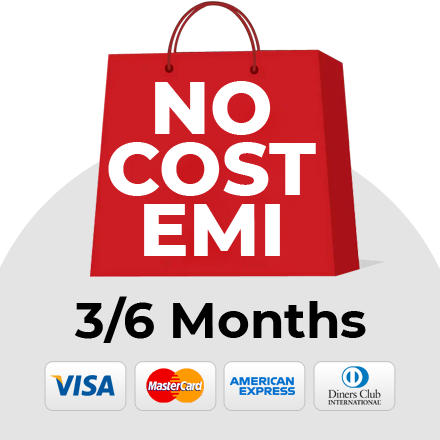 Sonodyne Micro HTS1 - 5.1 Speaker Package + Denon AVRX-250BT 5.1 Home Theatre Bundle Package
Free Shipping (India)
Brand New Unit(s)
Price Includes GST
Official Manufacturers Warranty
EMI Payment Option Available
3/6 Months - No Cost EMI on All Orders above 30,000
To avail No Cost EMI, please select applicable card offer on the payment screen.
Tax Included.
AV Shack brings you a premium Sonodyne micro 5.1 speaker package + Denon AVRX-250BT 5.1 Home Theatre Package at an affordable price point.
Package includes:
1 Set 5.1 Speaker Sonodyne Micro HTS-1 Speaker Package
1 Pc Denon AVRX-250BT AV Receiver
Features:
Sonodyne Micro HTS 1 (5.1 Speaker Package)
SURROUND SOUND SET-UP
For positioning the Micro 3001 main left and right speakers, place them at ear level, with at least 6 - 8 ft between and angled slightly toward the listening position or the sweet spot. For positioning the Micro 3001 surround left and surround right speakers, place the speakers to the left and right of your listening position. Angle them so that they point towards you for the best sound. If side placement is not possible, place them a few foot behind your listening position and face them forward. For details of mounting, please refer to the manual of Micro 3001. Experiment for best results.
For positioning the Micro 3002 center speaker place it at ear level, in the middle between the left and right speakers. For details of mounting, please refer to the manual of Micro 3002.
ACOUSTICS OF THE LISTENING ROOM
The acoustical makeup of your listening room is key in determining how good (or bad) is the sound that reaches your ear. The contents of a room (carpets, curtains, furniture etc.), its shape, and the material of which the boundaries are made, make or break your sound. The idea is to have a listening area where the absorptions and reflections are calibrated to attain, as far as possible, a neutral environment. While there are no 'quick fix' formulae to convert a room to an 'ideal listening room', here are some things that you might try to attain optimal performance.
In your listening room, clap your hands, snap your fingers, and jingle a ring of keys. If the resulting sound is unintelligible (muffled), and resonating, your room is inclined toward being reflective. In this event, you might want to: Hang up curtains/ lay a carpet or rug / introduce book cases/ other racks. In the event that the resulting sound is too damped your room is inclined toward being absorptive. You might want to remove some of the absorptive material (like those given above).
Denon AVRX-250BT 5.1 Channel AV Receiver
Part of the Denon X-Series lineup, the AVR-X250BT AV receiver powers quality home theater at 130W per channel. Enjoy your favorite movies and shows with Full 4K Ultra HD, Dolby TrueHD and DTS-HD on all five HDMI inputs, and HDCP 2.2 support on three inputs. The 5.1 channel AVR-X250BT features Bluetooth for wireless music streaming from any compatible device and remembers up to eight paired devices so that family and friends can listen to their favorite tracks too. The guided Setup Assistant makes getting started a breeze. Plus, the Denon legacy of audio authority ensures you enjoy the latest technology and highest quality with every listening experience.
HIGH-PERFORMANCE 5 CHANNEL DISCRETE AMPLIFIER WITH ECO MODE
Featuring discrete high-current amplifiers on all channels, the AVR-X250BT delivers high-power performance at 130W per channel (6 Ohms, 1kHz, 1% 1 Ch. Drive). Low impedance drivers provide operational stability for a wide range of speakers and create balanced, tonal sound. The AVR-X250BT features a five-input HDMI section with 4K/60 Hz full-rate pass-through and HDCP 2.2 support on three inputs.
GEARED UP FOR 4K ULTRA HD
The advanced HDMI video section of the AVR-X250BT lets you enjoy your favorite movies and shows with the best picture quality available.
BREATHE NEW LIFE INTO LEGACY SOURCES
The AVR-X250BT features an advanced HDMI section with five inputs that offer full 4K Ultra HD, HDR, BT.2020, Wide Color Gamut, 4:4:4 Pure Color sub-sampling, as well as 21:9 and 3D video pass-through and HLG (Hybrid Log-Gamma) pass-through support for exceptional color, clarity and contrast. HDCP 2.2 is supported on three inputs for copy protected content.
NEXT GENERATION VIDEO FORMATS
The AVR-X250BT supports High Dynamic Range (HDR) video format. It is even ready for HLG (Hybrid Log Gamma). HLG offers HDR technology over broadcast content.
SET-UP AND CONNECT WITH EASE
The included AVR-X250BT Quick Start Guide provides simple, clear instructions for how to get started. Once you connect your TV to the AVR-X250BT via HDMI, the exclusive Denon Setup Assistant appears on your TV screen to walk you through setup, step by step. A row of color-coded speaker connections is laid out horizontally, making organizing and connecting speaker wires simple.
Bluetooth Built-In
Your favorite tracks, at your fingertips. Stream music from your computer or smart devices with the AVR-X250BT and built-in Bluetooth. It can remember up to eight paired Bluetooth devices, so invite family and friends to share their music and enjoy the audio quality of the AVR-X250BT. To stream via Bluetooth, simply select the Denon AVR-X250BT from the Bluetooth menu on your smart device.
QUICK SELECTS FOR USER-FRIENDLY AUDIO TUNING
The Denon AVR-X250BT front panel features four Quick Select buttons that store your preferred audio settings for each source. Switch between TV audio, Blu-Ray, media players and more – and the AVR-X250BT adjusts the EQ settings to your preferences for that media source. Use the buttons on the front panel or opt for the same Quick Selects on the AVR remote for faster control.
Specifications of Sonodyne Micro HTS 1 Speaker Package:
MICRO 3002 SPECIFICATIONS
| | |
| --- | --- |
| DESCRIPTION | 2 way speaker , ported |
| ENCLOSURE | ABS |
| TRANSDUCER COMPLEMENTS: HF | 0.5 inch polycone tweeter |
| TRANSDUCER COMPLEMENTS: LF | 2 x 3 inch woofer |
| RECOMMENDED AMPLIFIER POWER | 40 - 120 watt |
| NOMINAL IMPEDANCE | 8 Ohm |
| SENSITIVITY (1 W 1M) | 90 dB |
| FREQUENCY RESPONSE (-3 dB) | 100Hz - 20kHz |
| FREQUENCY RANGE (-10 dB) | 70Hz - 22kHz |
| CROSSOVER FREQUENCY | 3.5 kHz |
| INPUTS | Binding post |
| COLOURS | Black / White |
| DIMENSIONS (HXWXD) | 100 mm x 261 mm x 100 mm |
| NET WEIGHT | 1.3 kg |
| MOUNTING OPTIONS | Wall mount bracket (inlcuded) |
| PACKED IN | Single |
MICRO 3001 SPECIFICATIONS
| | |
| --- | --- |
| DESCRIPTION | 2 way speaker , ported |
| ENCLOSURE | ABS |
| TRANSDUCER COMPLEMENTS: HF | 0.5 inch polycone tweeter |
| TRANSDUCER COMPLEMENTS: LF | 3 inch woofer |
| RECOMMENDED AMPLIFIER POWER | 40 - 100 watt |
| NOMINAL IMPEDANCE | 8 Ohm |
| SENSITIVITY (1 W 1M) | 87 dB |
| FREQUENCY RESPONSE (-3 dB) | 100Hz - 20kHz |
| FREQUENCY RANGE (-10 dB) | 80Hz - 22kHz |
| CROSSOVER FREQUENCY | 6.5 kHz |
| INPUTS | Binding post |
| COLOURS | Black / White |
| DIMENSIONS (HXWXD) | 171 mm x 100 mm x 108 mm |
| NET WEIGHT | 0.75 kg |
| MOUNTING OPTIONS | Wall mount bracket (inlcuded) |
| PACKED IN | pairs |
ROARR 1108 SPECIFICATIONS
| | |
| --- | --- |
| DESCRIPTION | Front firing powered subwoofer ,vented |
| ENCLOSURE | MDF |
| TRANSDUCER COMPLEMENTS | 1 x 8'' high excursion subwoofer |
| AMPLIFIER CLASS | Class AB |
| AMPLIFIER POWER | 100 W |
| AMPLIFIER THD | 0.1% at rated power |
| MAX SPL | 109 dB |
| FREQUENCY RESPONSE | 35 Hz (-3 dB) |
| FREQUENCY EXTENSION (-10 DB) | 30 Hz |
| LOW PASS FILTER | 50 Hz ~ 150 Hz |
| PHASE | Switchable: 0 degrees and 180 degrees |
| INPUTS | Left and Right unbalanced RCA type |
| INPUT SENSITIVITY | 80 mV at level control max |
| CONTROLS | Level control, frequency control |
| FINISH | Front: Ash; Outer skin: Option of Black ash or Rosewood |
| DIMENSIONS (HXWXD) MM | 330 x 330 x 429 |
| POWER CONSUMPTION | 130 W Max. |
| NET WEIGHT | 11.7 kg |
Specifications of Denon AVRX-250BT 5.1 AV Receiver:
Brand & Model

Denon AVR-X250BT AV Receiver

No. of Channels

5.1 Channel

Number of power amps

5 (Front L/R, Center, Surround L/R)

Power output

130 watts per channel
(6 ohms, 1 kHz, THD 1%, 1ch driven)

90 watts per channel
(6 ohms, 1 kHz, THD 0.7%, 2ch driven)

70 watts per channel
(8 ohms,20 Hz - 20 kHz, THD 0.08%, 2ch driven)

Speaker impedance

4 - 16 ohms

Preamplifier Section

Input sensitivity/ impedance

200 mV / 47 kohms

Frequency response

10 Hz - 100 kHz — +1, –3 dB (DIRECT mode)

S/N Ratio

98 dB (IHF-A weighted, DIRECT mode)

FM Section

Tuning frequency range

87.5 - 108 MHz

AM Section

Tuning frequency range

522 kHz – 1611 kHz

General

Power Supply

AC 230 V, 50 Hz

Power consumption

330 W (Standby 0.1 W, CEC standby 0.5W)

Power consumption No-Sound

30 W (ECO on), 45 W (ECO off)

Dimensions (W x H x D)

434 x 151 x 319 mm

Weight

7.5 kg