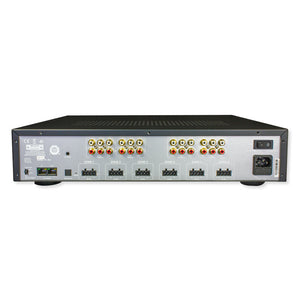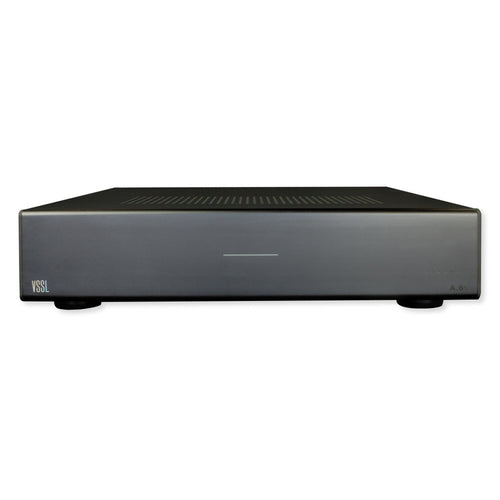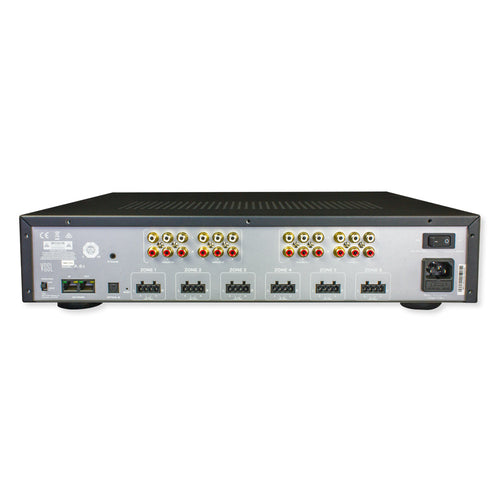 VSSL A.6x Stereo amplifier with 6 Zones Multi Zone Functionality
Free Shipping (India)
Brand New Unit(s)
Price Includes GST
Official Manufacturers Warranty
EMI Payment Option Available
3/6 Months - No Cost EMI on All Orders above 30,000
To avail No Cost EMI, please select applicable card offer on the payment screen.
Tax Included.
Stream Your Audio Your Way
Stream music in your home like never before with the VSSL A.6X Audio Distribution Matrix. The A.6X is a multi-channel audio distribution system, allowing you to listen to your favorite music in up to 6 zones in your home from up to 6 different sources at the same time. The audio matrix uses Native Streaming™ technology to allow you to control your music directly through your favorite mobile apps on your smartphone or tablet — no remote control or third-party controller app necessary. The A.6X is easy to control and easy to integrate into existing home audio or home automation systems.
Stream music from 6 sources to 6 zones from 1 to 6 devices simultaneously
Compatible streaming with iOS, Android, Mac, or PC devices
Connects to traditional audio or wireless speakers or streaming devices
Control home audio directly from apps including Spotify, Apple Music, Pandora, etc.
Built-in Chromecast, Amazon Alexa, Apple Airplay2, Google Cast, Spotify Connect, and Bluetooth compatibility
Page individual or all zones with recorded audio messages
Can be easily included into existing home automation systems
Native Streaming – The New Way to Play Music
VSSL's products utilize a revolutionary streaming technology known as Native Streaming™. Native Streaming allows you to easily command your home audio by controlling the selected zones and volume control through your preferred music or audio playing app. This means you can play music from Spotify, Pandora, or YouTube, select where in your home you wish to hear it, and adjust volume levels without leaving the selected app or using a physical remote control or third-party app. This gives you a seamless and simple home audio experience unlike any other.
After initial setup using the Google Home and VSSL apps, all you have to do is connect to your home Wi-Fi, open your favorite audio app, choose which zone to play in, and your music will immediately begin playing. You don't have to open those two apps again except for audio equalizing and reconfiguring zones. No device syncing like with Bluetooth, and no login ID or passwords necessary, aside from your home Wi-Fi password. You can change which audio zones to play on the fly, and cast to six devices to six different audio zones at the same time. You can even cast from six audio apps in six different zones at the same time, from one device.
Built-In Compatibility with All Virtual Assistants
The A.6X Home Audio Streaming System features native integration with Google Home and Google Assistant, along with compatibility with Amazon Alexa and Apple Siri voice assistants. A.6X multi-room audio distribution system can be completely controlled by your voice through your virtual assistants.
Convenient, Advanced Controls Through the VSSL App
Use the VSSL app to set and adjust audio quality, volume settings, zone configuration, and page announcements with recorded audio. You can set volume limits for individual or all zones, adjust EQ settings, and mirror any preferred settings across other selected zones or for the whole system. The VSSL app also allows you to record one-time audio messages that you can send to individual or multiple zones. Tell your kids to come down for dinner, or ask your family to bring up your laundry through your home audio system.
With multiple VSSL products or pre-existing audio systems, you can create pre-set groups that are separate from the normal zones. These groups, or party zones, allow you to select multiple zones to play audio in one easy button press. These party groups don't overwrite your existing audio zones, so you don't have to worry about resetting your original zones once the party is over.
Installation Details
The VSSL A.6X provides local inputs used to connect this audio matrix to your home audio system. The A.6X can be placed on a flat surface or mounted onto a standard 19-inch equipment rack (rack ears included, requires 2U space). To connect to your home audio system, connect all phoenix connectors and auxiliary cables to the matrix.
The audio distribution matrix is primarily designed for use with 4/8-ohm third-party speakers (sold separately), which wire into the phoenix connectors on the back of the matrix using size 14-20 gauge speaker wire. Each of the 6 zones supports 1 pair of speakers (1 left-channel speaker, 1 right-channel speaker). In addition to supporting wire-in speakers, the matrix also optionally supports an external amplifier system (such as a home theater receiver, powered subwoofer, or passive subwoofer with separate amplifier), which connects to the bus output on the matrix.
External audio inputs can also be connected, allowing you to distribute audio from any RCA analog source, such as a satellite TV box.
The A.6X requires an ethernet cable (sold separately) to include the A.6X into your home network. Once the A.6X is added to your network, set up your A.6X with the Google Home App and the VSSL App for iOS and Android. First, select and set up your zones with the Google Home App. Then, adjust audio balancing, volume limits and EQ settings using the VSSL app. After the initial set up is complete, select an audio app, press the Cast button, select a zone, and begin your new home audio experience.
Optional Third-Party System Integration
The A.6X's open API, customizable drivers, and Google Home compatibility make it easy to add to home automation systems. You can add the A.6X to any Google Home compatible automation system to remotely turn on and off the device. Use Google Home App to set up and name your audio zones. The names you give your zones will appear across all casting apps.
VSSL is designed to provide consistent performance and stability. The A.6X is built with high-power circuitry, 50 watts per channel, and audio outputs at 8 and 4 ohms for high quality and long-lasting sound.
Contents
A.6X Audio Distribution Matrix
Rack Ears
(6) Phoenix Connectors
Power Cord
Notes
Requires an Ethernet connection to operate. Users must be connected to the same local network as the A.6X to control zones.
Requires Google Home and the VSSL apps to set-up and configure audio zones. Otherwise, volume control, zone selection, and audio source are controlled through native casting apps.
Include no more than four (4) speakers per zone.
Set Your Music Free With VSSL
VSSL creates premium wireless audio products that are easy to use and enjoyable for people of all ages. Their cutting-edge Native Streaming™ technology delivers all of your music to your fingertips, no third-party controllers or apps necessary. VSSL is the only audio company that uses Native Streaming™, and that's why custom installers and homeowners choose VSSL over any other system to play music throughout their home or office. Native Streaming™, enables listeners to use apps they already know and love, to play music directly from their device to any room.
Manufacturer Part #: A.6X
UPC: 865432000260
Zones: 6
Channels: 12
Inputs: (6) matrixed analog, (1) optical, (1) IR, (1) network
Wireless Inputs: 6 + 1 marco party
Outputs: (6) matrixed analog, (1) network
Output Power: 50 watts/ch @ 8/4 ohms
EQ: 7-band parametric adjustable
S/N Ratio: >101 db
Frequency Response: 20Hz-20kHz
Operating Voltage: 115-230 VAC 60/50 Hz auto switch
Rack Space: 2U
Dimensions No Feet: 17(W) x 3.46(H) x 14(D) inches
Dimensions With Feet: 17(W) x 4.7(H) H x 14(D) inches
Shipping Weight: 26.5 pounds
Warranty: 1 year