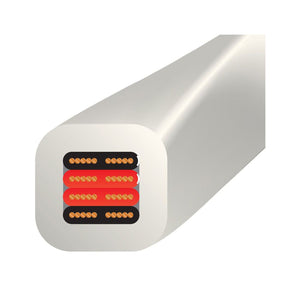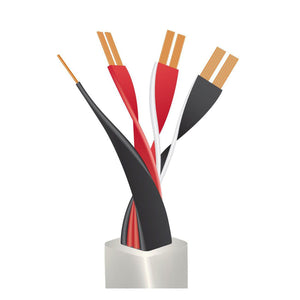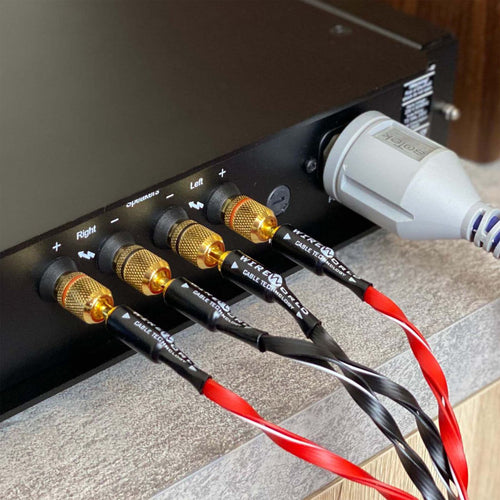 Wireworld Solstice 8 Terminated Speaker Cable - (3 Meter)
Free Shipping (India)
Brand New Unit(s)
Price Includes GST
Official Manufacturers Warranty
EMI Payment Option Available
3/6 Months - No Cost EMI on All Orders above 30,000
To avail No Cost EMI, please select applicable card offer on the payment screen.
Tax Included.
Wireworld Solstice 8 Terminated Speaker Cable - (3 Meter)
Enjoy The Latest WireWorld Performance Advantages In A Strong, Light, Flexible & Open Cable
Utilising WireWorld's Quad DNA Helix Design With 13-Gauge Oxygen-Free Copper Conductors
Banana Plugs Fitted To All Ends For A Secure Fit
About WireWorld Solstice 8 Terminated Speaker Cable
The WireWorld Solstice 8 Speaker Cable shows it's possible to get a rich, naturally textured, dynamic sounding cable at a very reasonable price. As featured here, we have it available in factory terminated pairs with banana plugs fitted to all ends - 8 in total - so it is truly unpack, plug-in and play. In a few minutes you'll be hearing clearly every vibrant detail on your favourite recordings.
The Solstice 8 speaker cable allows you to enjoy the latest WireWorld performance advantages in a strong, light, flexible and open cable. This cable can be used in high quality stereo systems or, in longer runs, for high end custom home theatre installations.
Quad DNA Helix Construction
The goal of Wireworld's patented DNA Helix cable technology is to enable listeners to experience their music without the losses and colourations normally caused by cables. Polygraph testing shows that the primary sonic effects of cables are caused by electromagnetic effects. The effect called eddy current resistance, which increases as strands are twisted, is especially problematic because it masks quiet musical details. To overcome those issues, the strands in the DNA Helix designs are completely parallel, providing the most direct signal path for the lowest eddy current resistance. These parallel strands run within layered flat conductors that channel electromagnetic energy and reject interference. Furthermore, in the analogue cables, the spacing between the positive and negative conductors is fine-tuned by ear to match the pure sound of a direct connection. The effect of that tuning is like focusing a lens, with the beautiful textures and dynamics of live music coming into vivid 3-D focus when the spacing is just right.
Premium High-Quality Metals
A common misconception is that the gauge of a speaker wire is all that matters. Heavier is better, right? Wrong. Gauge can make a difference, but testing has taught us that cable design and material quality can have an even greater impact on the sound we hear. That is why WireWorld focuses on developing the most efficient designs and producing them with the best quality materials available in each price range. For example, the Solstice 8 speaker cable features high quality oxygen-free copper conductors for the best performance for the money. If you're buying the factory terminated version, you also get high quality gold plated oxygen-free copper banana plugs for the most secure connection to your speakers and amplifier.
Composilex 3 Insulation
Beyond the advantages of the best conductor materials, a third generation composite insulation, Composilex 3, preserves the purity of the signal by minimising triboelectric noise better than any conventional low loss insulation material, including DuPont Teflon. Composilex 3 provides rewarding improvements in vividness, focus and dynamic contrast. With these innovations, Wireworld cables have advanced the art of reproducing the power and delicacy of music.
Uni-Term Interchangeable Termination System
Speakers and components may come and go, but your favourite cables should be able to move with your ever changing system — hassle free. Interchangeable spades and bananas in Gold plated OFC, make it easy to change connectors to suit your evolving needs. Convenient, fast and well-constructed with premium materials. Contact Audio Trends for details
Home Theatre Installations
The sound quality of professionally installed home theatre systems has advanced to the point where the audible losses of standard speaker cables can really limit their performance. The best way to observe those losses is to compare a few centimetres of standard cable to the 10 to 15 metres commonly used for in-wall runs. The short connections sound dramatically better, with greater clarity and dynamic punch. Wireworld DNA Helix speaker cables are engineered to provide the closest sound to the short connections at prices that suit a wide range of installations.
About Wireworld
For the seriously music-obsessed, a key gateway to an expanded soundstage, where one comes within grasping distance of the creator's vision, lies in the purest and most sonically invisible of conductors being the medium between their audio setup. In the audio world, few have come close to reaching this flagstone as David Salz, Founder and CEO of Wireworld. For close to four decades, David has led a renaissance in the cabling world, completely reinventing conductor geometries in his quest for high-performance cables that boast even octave to octave tonal balance, while staying bereft of the signature house sounds that colour many a brand creation. We also support Wireworld as a premier provider of leading edge digital and analogue cable technology for home audio and video, from HDMI and USB audio to state-of-the-art high-end interconnects and speaker cables. They have earned their world-class reputation by producing high quality cables based on the use of objective perceptual testing, innovative patented designs, premium materials, and exceptional manufacturing quality.
Specifications
| | |
| --- | --- |
| Design | Factory terminated speaker cable pack |
| Configuration | Quad DNA Helix Construction Speaker Cable (longer runs are suitable for in-wall use) |
| Signal Conductors | 4 Conductors (16 strands) |
| Conductor Material | Oxygen-Free Copper |
| Gauge | 13AWG / 2.5 sq. mm |
| Insulation | Composilex 3 |
| Plugs | Gold Plated OFC Banana Plugs (Spades also available to special order) |
| Available Lengths | 2, 2.5, 3, 5 & 6 metre terminated pairs with banana plugs fitted. Spade connectors available to special order - please enquire. |
| Manufacturer's Warranty | 5 Years |