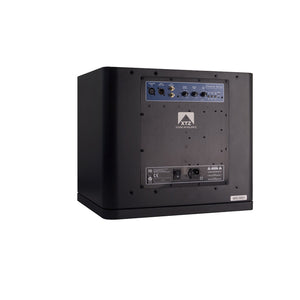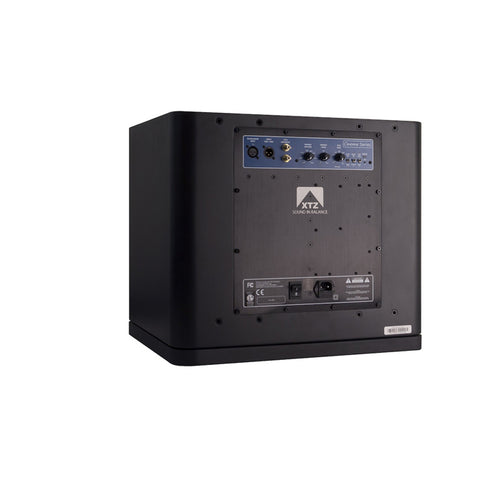 XTZ SUB 1X12 THX- 12'' Active hybrid subwoofer
Free Shipping (India)
Brand New Unit(s)
Price Includes GST
Official Manufacturers Warranty
EMI Payment Option Available
3/6 Months - No Cost EMI on All Orders above 30,000
To avail No Cost EMI, please select applicable card offer on the payment screen.
Tax Included.
SUB 1X12 - True cinema bass performance
The best possible cinema experience is achieved when you feel the bass waves going right through your body. The impact of every punch, explosion, or racing car have to be reproduced accurately and with maximum impact. This is exactly what the 1X12 was constructed to do. Due to its extremely rigid and lightweight diaphragm, it can handle the longest strokes with perfect accuracy. Since the drivers are powered by an amplifier with 500 W RMS / 900 W peak power, the 1X12 is always in full control. If you want to feel the whole home cinema shake but still listen to highly controlled, impactful sound, the 1X12 is a perfect choice..
Driver
Throughout its proprietary development, the advanced High-Speed Ultra-Long-Stroke driver of the Cinema 1X12 is designed specifically for the requirements of a home cinema subwoofer with a high maximum sound pressure level and low limit frequency. With its ultra-light membrane material and an extremely powerful magnet, it is able to carry out even the fastest strokes in almost perfect piston-like motion. The completely new Claridy Class-D amplifier with 900 Watts peak power ensures an almost perfect clipping characteristic, which provides maximum headroom and thus the highest dynamics.
Sound Tuning
To optimally adjust the sound of this unique subwoofer to your needs and to your room, the Cinema 1X12 has a room Gain EQ which offers the possibility of equalizing the sound so that it adapts to the Room Gain in the best way. Additional adjustments can be made by sealing the slot shaped bass reflex tube with the supplied plug. Then, the 1X12 will behave like a closed box construction with maximum precision and an earlier sloping bass. Thus, the entire characteristic of the subwoofer can be optimally adapted to your needs.
Cabinet
In order to keep resonances within the housing to a minimum, a specific trapezoidal shape for the cabinet was selected. The exterior walls are made of 18mm MDF, reinforced with 40mm thick stiffeners. The front wall is 30mm in thickness, creating an extremely stable structure. Inside the case many layers of insulating material are used to absorb backward radiated sound. All these design elements together with the precisely sized cabinet ensure the subwoofer's sound is accurate and controlled at any sound pressure level.
Surface
For the surface of the Cinema 1X12 a special anti-reflection coating is used. The matte black anti-reflective polyurethane paint is applied in 8 layers to provide an optimal result. Afterwards, an ornate polishing ensures a perfect and very appealing finish. Thus, disturbing light reflections on the surface of the subwoofer can be reduced to a minimum when using a projector.
Terminal
The rear terminal supports connections using either an RCA or XLR cable. An XLR output allows the XLR input signal to be forward, for example, to a second subwoofer in multi-subwoofer configurations. Crossover frequency, phase and volume can be adjusted precisely here and the Room EQ Gain can be activated or deactivated to customize the sound to the room and personal preference.
Front Cover
The front cover of the Cinema 1X12 has a magnetic mount. The inserted black acoustic material is opaque and completely transparent to sound. It protects the drivers from potential damage. The XTZ Cinema logo is magnetic so it can be placed on the subwoofer where preferred.
THX CERTIFICATION
A perfect home cinema experience requires speakers which can handle extreme dynamics at high sound pressure levels. At the same time, the sound should be crystal clear and free of any distortion. These are the goals that were set for the cinemaseries and which are even overachieved by making use of many special technologies.
XTZ Cinema products marked with THX certifications are tested and approved for the full THX experience. THX Certification is an assurance to consumers of uncompromised quality, best-in-class performance and consistency. Blending art, technology and the ever-changing challenges of a real-world viewing environment, THX and its partners continue to deliver a transcending experience just as the creator intended.
Bass Driver
The 12" Bass driver of the Cinema Series is called advanced High-Speed Ultra-Long-Stroke with the use of a very light cone material and a very strong motor (magnet) structure. We choose fast and light drivers to give both high speed and maximum dynamic sound. The bass drivers are able to perform the ultra-long strokes with a maximum of linearity and we also developed a special NBR (Nitrile Butadiene Rubber) surround to complement them. The requirements of the drivers mean that to achieve the highest SPL even down to the lowest frequencies the boxes need to be big. This is just pure physics. An optimized volume for the driver gives the perfect air resistance to the driver. This leads to the highest SPL in low frequencies with maximum head room from the amp. Boxes that are too small or too big lead to over damped or underdamped subwoofers that have increased distortion. A box with an optimal volume has low distortion and the widest frequency response possible enabling the subwoofer to deliver the lowest and deepest bass with a sound that is still clean yet has a lot of headroom for the amplification. We required our subwoofer to provide very high sound pressure levels yet remain precise and true to the original music. We met this challenge by using the specially developed low-mass long throw driver. The 12" cone consists of a very strong, long fiber pulp blended material optimizing the diaphragm's stiffness to weight ratio. Our custom designed drivers have several more advantages to achieve the perfect bass:
FEA Optimized magnetic field design incorporating a tightly focused "T" pole design;
Advanced level of large signal motor and suspension refinement using a KLIPPEL laser-based test system;
Large aluminum shorting ring to minimize inductance and further lower non-linear distortion;
Ultra-high temp aluminum voice coil with Airflow Maximizer Design;
Special NBR rubber surround with maximum linearity throughout its excursion range;
Spider fabricated from a unique blend of poly-cotton and pure NOMEX
Claridy Class-D Amplifier
This completely new amplifier, specifically developed for the Cinema subwoofers, has an extraordinarily high power output of 500W RMS and 900W in peak wattage whenever it is needed. The Cinema SUB 3X12 uses one Claridy mono-block for each driver for a total of 1500 W RMS / 2700 W Peak. Class D amplifiers work in a different way than A, B, or A/B amplifiers. Since Class D ("switching") amplifiers can turn fully on or off, they can dramatically increase the mid and bass output power while minimizing the loss of power, making for a highly efficient amplifier that is very suitable for subwoofers. It eliminates the need for huge power transformers, banks of output transistors, and huge extruded aluminum heat-sinks. Class D amplifiers are remarkably compact for the amount of power they produce. The technology is very effective and a good illustration of the efficiency of Class D amplification is to imagine a chip-sized module that is 3" wide, 5" deep and just 1.5" in height, producing up to 500 W all while delivering 90% of the power it receives to the loudspeakers. Class D technology is also environmentally friendly due to its energy efficiency. In the past, most Class D amplifiers had a lot of distortion challenges but not anymore. By using state-of-the-art Claridy Class D amp technology with near ideal clipping characteristics, we ensure maximum headroom capability by minimizing the use of limiting circuitry. This results in a precise sound that is noise and distortion free and a never before experienced amount of detail. These achievements and the amplifier's powerful performance are the result of the many years XTZ has invested in perfecting the design.
Sound Tuning
To provide optimal sound quality that can adapt to various room sizes and listener tastes, the 1X12 offers many tuning options for sound adjustment. Since the 1X12 has its -3 dB point at a very deep 19 Hz, we decided to add a special Room Gain EQ that takes the room gain into account. Additional adjustments can be done by closing the bass reflex port with the attached plug. So the 1X12 offers perfect bass for any home cinema environment. Further refinements can be made by adjusting the volume, phase, and crossover frequency.
Construction Type: 12" aktiv hybrid subwoofer (Bassreflex / Sealed)
Woofer driver: 1 x 300 mm (12") advanced High-Speed Ultra-Long-Stroke driver (Polymer reinforced cotton and pure Nomex fibers)
Amplifier: 1 x High-End Claridy Class-D
Frequency Response: 19 - 160 Hz (+/- 3dB)
Power: 900 W Peak / 500 W RMS, Class-D
Power Consumption (standby / switched on): <0,5 W / 16 W
Phase: Variable 0 - 180°
Crossover frequency: Variable 40 - 160Hz, Bypass
Connections: 2 x RCA, XLR, XLR pass-thru
Settings: Bassreflex / Sealed, 2 x EQ (Anechoic, Room gain)
Cover: magnetic, black
Feet: 4 x rubber spikes (M6 thread)
Dimensions: 510 x 465 x 475 mm (W x H x D) / 20.0 x 18.5 x 18.7" (Height incl. spikes)
Weight: 29 kg / 63.9 lbs
Color: Matte black 8 layers anti-reflection paint
Warranty: 2 Years (Electronic: 2 years)
Quantity: 1 Pc